Dream Village
now browsing by tag
These entries are now cross-posted to my main site as well 🙂
First up, I took some time to try the new puzzle league mode.


I… really don't like Puzzle League. Unfortunately, there are items attached to it and I kind of really want to beat the story mode. Of the items, I want the Nintendo 3DS ones (The Station and Display), the Flower Fairy Boots, and the Flower Fairy Wand the most. I wouldn't mind the Flower Fairy dress and wig too though.


I can't even beat the second stage and my score for the first minigame in Puzzle League is terrible.
Essentially, to get all the items you need to finish story mode, get a lot of combos, and get fairly high scores in each of the minigames (You can find more details Here) and I just am failing miserably at it. I don't even consider games like these puzzle games. Puzzle games to me are like… Professor Layton–not this 🙁
Island Escape also apparently has items tied to it–11 of them (though, nobody has figured out what. Similarly, there are apparently about 775 new items in the game now. I'm stressing, for the record). I'll probably be putting a lot of time into this because at least I'm not completely awful at it.
In the meantime, I've moved my Catalog list over here as it's just quicker to update and then it's right on the homepage. But yes, going over to other things done…
I took a stop to Nintendo's New Dream Village which you can visit at 0000-000F-4241. It was so nice to see so many of the new items and villagers so just a few of the (many) photos I took:

I also love how Wisp takes place of characters when they are camping:


As you can probably tell, I brought Celeste in for her lovely bow:

Finally, there are now anniversary gifts–I love how nice the model tree looks in my Model room:


I look forward to when I get there as I [slowly] fix my date.
So, here I was up late because allergies and just minding my own business when the official Splatoon twitter posts this followed by the official Animal Crossing twitter with these posts. Those are new villagers. New Callie and Marie themed villagers. Plus items. First I thought, new DLC for Happy Home Designer? We've seen new villagers put in that way and gotten items that way as well. That'd make sense, right? (And would be pretty cool, honestly)
But then I realized the website is the one for New Leaf and actually, this is the New Leaf DLC and special towns page (which also mentioned an update to the Nintendo village which happened earlier this month so that is why we are taking a trip there too). From what I could tell, there is an update coming this fall that adds new features and Amiibo functionality. Besides hinting about villager cosplay, we also see Marshall being used to get or turned into Wisp? (Or maybe a different ghost?) It is Wisp! And it seems he cues the Amiibo tapping. And yes, it seems you can summon villagers to move into your town using the Amiibo cards (which is amazing and something I expected to happen for future games–not in an update to New Leaf). Not to mention other cool collaboration things…

I'm really curious about it and excited, but also nervous as I just finished my goals and if any of it is time-oriented, I'll need to play over a year's worth of gameplay and hope nobody moves. That is kind of terrifying.
But yes, until we learn more (and I sure hope we get this update unlike the Style Savvy 2 update that was Japan only, considering the English twitter mentioned it as well, we should be good!), I'm going to just try and stay positive. At the very least, considering it does come out in Fall, I do find it will be very likely it will be connected in some way to the mobile Animal Crossing game we'll be getting.
Now, onto Nintendo village! As always, the address is 0000-0100-0017: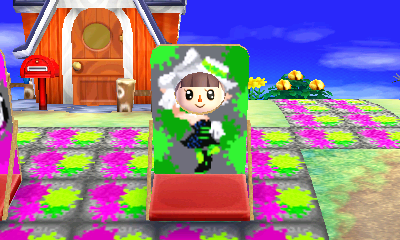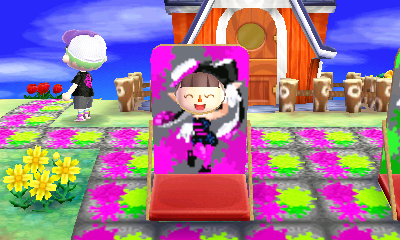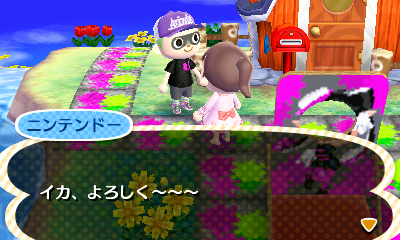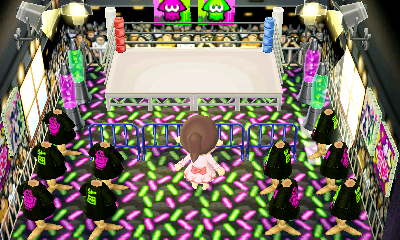 I also made one small stop to one other village at 2700-0204-3412, so here are some pictures from there too: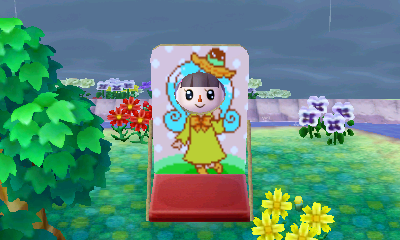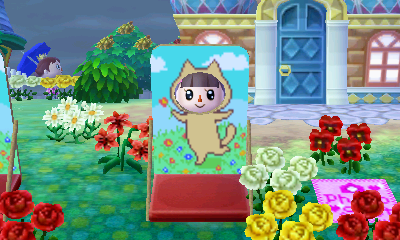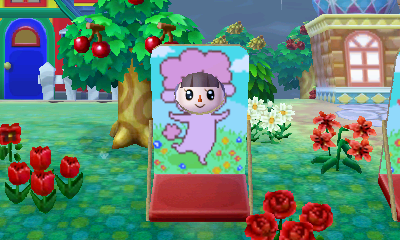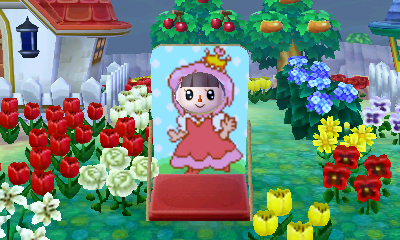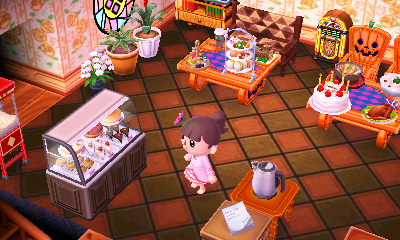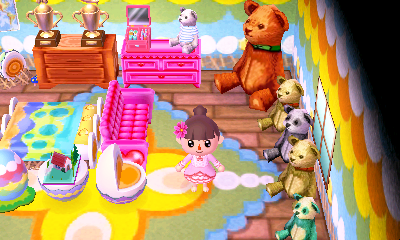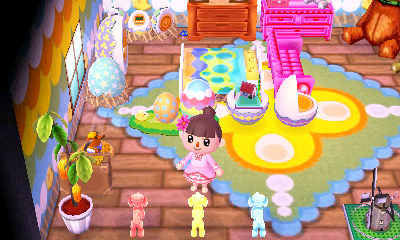 So, if you stopped by my stream today, you may already know what this is about, but if not… Well, for those who watched Rainy's streams or knew her from TBT or elsewhere (or met her through Zed's streams years ago like I did), you may have heard that she took a break due to medical issues. Unfortunately, she didn't make it and passed away this year 🙁 I decided to try and visit her towns through Dream Suite today to honor just how much she put into the Animal Crossing games and how much she loved them. Rest in Peace, Rainy.
To go with stream itself, I also took quite a few pictures in each of her towns to make a post here. If you have the time, I hope you will visit them too.
So, while the North American Nintendo Village doesn't update too often, the one in Japan actually updated for Splatoon and in honor of the first and second Splatfests that finished up this month in North America, I thought it'd be fun to do an entry checking it out! They'll apparently only be around for a limited time so if you're interested, I'd recommend going sooner rather than later! The dream address is 0000 – 0100 – 0017. Below, you'll find some of the fun pictures I took!

Those are just some of the cool exterior changes 🙂 Meanwhile, the room upstairs inside the house has been Splatoon-ified as well:

You can get the patterns for the shirts, faceboards, portraits, carpet, and paths all from Wendell 🙂
Finally, while I'm not sure if I'll try starting up a bunch of Dream Village entries or not (mostly due to what happened in my last entry), if I do, does anyone have preferences on the text blogs like I usually do or videos? And if the latter, would you want talking or no? Let me know!
So, recently Japan's official Nintendo Dream Village and Europe's official Nintendo Dream Village were updated! And thus, I decided it'd be fun to check out the updates.
Japan's Official Nintendo Village: 0000 – 0100 – 0017 – Updated for Captain Toad! 😀


This was so cute. I love how everything was done. If you haven't picked up Captain Toad yet, I highly recommend you do so. As usual each house is its own game with Tomodachi Life, Pikmin, and Super Mario 3D World being the other houses right now. I decided to stop back by 3D World for fun though:

Europe's Official Nintendo Village: 7900-2106-3477 – Updated for Winter!


I still love that you can visit Santa. You can check out my visit from last year here. The house is the same (and there's no other changes), but it's day time this year.