Posted by: Jennifer | on July 26, 2013
Re-tail Sign: Persimmon
Turnips: AM: N/A Bells | PM: 52 Bells
Despite staying up until 3:30AM trying to get a Public Work, I was not successful. In fact, I didn't even get ANY requests :/ It didn't help that being sick made each lap take longer (Although, part of me is convinced that personality type may determine time between blings–I swear, it usually had to be 10-15 minutes for Phoebe over the 5-10 minutes for most others). Let's hope I have better luck today as now I'm even more worried. I had lots of mail waiting for me–a Tea Table from Ruby, a Hula Doll from Gulliver, another Sketchbook from Katie, a painting from Redd, and the thing I ordered from the Catalog.
It was then time to go fossil hunting (and gyroid hunting since it rained)… I really want to work on switching out flowers, but it's going to suck doing that by myself. I already know where I'm dropping the flowers off, but bleh 🙁 I really just need to get started on it…
In the meantime, I found my first Famous Mushroom!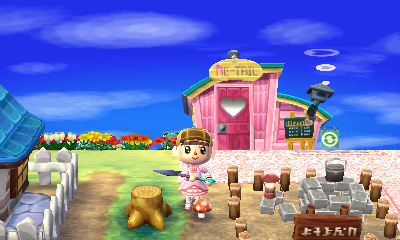 Yaaay~
I found my first Jacob's Ladder too <3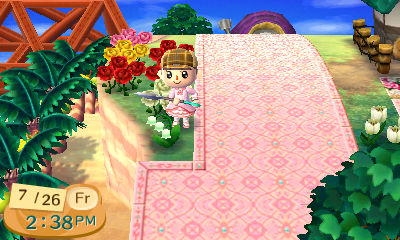 And Redd's in town!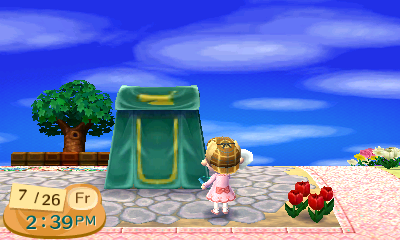 Eventful start @-@
In the meantime, Astrid should be packing tomorrow which means my town is about to enter total lock down until I get the following placed:
1. Windmill
2. Geyser
3. Zen Bell
4. Fairy-tale Bridge
5. Bell
6. Picnic Blanket
And MAYBE one more temporary reserve sign.
Unfortunately, I only have 2/6 of those things (or 3/7) which is a bit worrisome. If I'm lucky, I can visit people again/let people visit me early in August–if not… well :/
Anyway, it was then time to see Dr. Shrunk: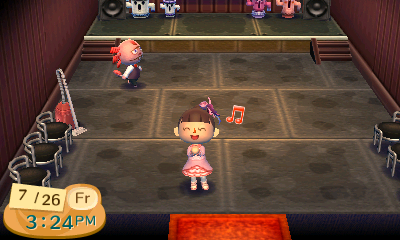 Glee Joke! Now I can sing :3 Also, just 9 more emotes until the Shrunk Dance!
After buying out the shops, working at Brewster's and picking up my mail, I was surprised to get a Public Work Request!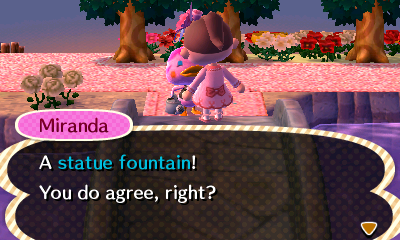 YAAAAY 😀 While it wasn't one of the main 6, it was the one I was originally going for so much excitement. I immediately went to place it and pay it off: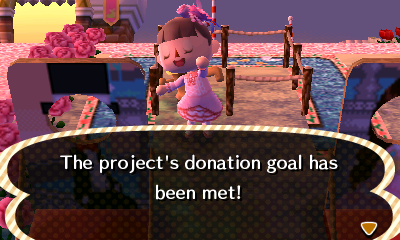 I officially no longer want anything that Snooty villagers can request as well :3 Just 3 things from Normal and Uchi and 1 thing from Cranky and Lazy and I am done! …minus the one thing from Weeding Day ._.
Also, finally unlocked the QR machine on Emi which means the Waterfall is now up. As I've mentioned though, sadly no other designs will probably be up ^^; At least unless I make them completely from scratch…
Anyway, not too much else was done today. I did do some refurbishing though of more festival lanterns–two like I did for Seamstry's Star room for the Space room in the Museum and this lovely Flan one for Emi's party room: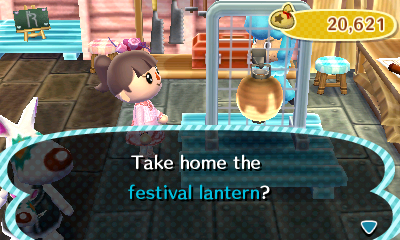 And an Oval Clock in Pink: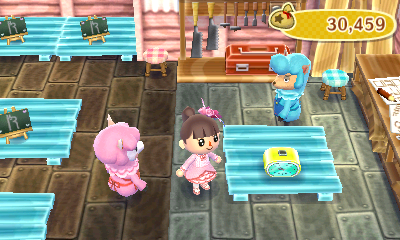 Shall be picking it up tomorrow~
—————————–
Day 26: You buying some new shoes