Posted by: Jennifer | on September 23, 2013
Today was another thunderstorm in game… This should mean I can visit Resetti tomorrow if it's not raining again. Regardless, despite the rain, there was a new SpotPass house as per every Monday.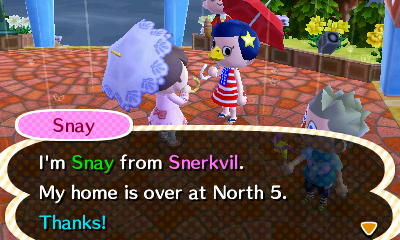 She's looking fairly patriotic today. Her house was rather simple though–it seemed to still be a work in progress.
Unfortunately, that was all I had time to do this morning, but expect an update on my villagers later. I haven't caught Marina outside a few times now…despite her apparently being outside and I'm really worried she may be the one thinking of moving again :/