Posted by: Jennifer | on October 1, 2013
So, today is pretty exciting. Besides the Nintendo Direct announcing more DLC (The Fedora Chair is out right now here in North America at all Nintendo Zones. It is NOT reorderable and is available until the 14th. The item starting the 15th is a Sushi Platter which you can also get ingame… the November items have yet to be announced), because it's October 1st, there's also a new monthly DLC!: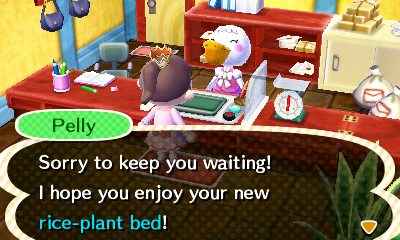 Yay for more catalog process. Not to mention a new Bug is out today that I still need–the Bagworm.
Villager go-through:
Merengue: Asked me to visit her house at 11:30AM
Cookie: Spoke about rumors
Peanut: Asked if she looked cute.
Marina: Wanted a new piece of furniture to replace a shirt.
Julian: Asked me to get Flurry for him.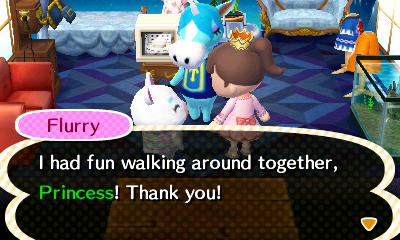 Diana: Wanted to buy my black bass
Flurry: Wanted to know if she looked okay
Maple: Wanted to know about Cooking.
Marcie: Worried her house was dirty
Molly: Just spoke about Kayla @-@
Anyway, Jack is also supposed to be in town today, but to be honest… I couldn't find him! I mean, I'm not going to be participating in Halloween anyway but…
As it is, he wasn't the only one I was having issues with. After shaking trees for over 4 hours, I still had yet to find a Bagworm 🙁 So I decided to take a break… but I will probably try again later–if I do finally catch it, expect an entry later!