Posted by: Jennifer | on November 8, 2013
Unfortunately, it seems despite taking it easy, feeling better went away and it's back to feeling awful 🙁 Which may be in part due to the suddenly be scheduled work and having to rush somewhere to get that done. Hoping it won't be too much longer before things go back to getting better. Regardless, I dislike not playing for a while and 3 days is probably the most I haven't…thus, it was time to load up the game regardless. I sadly wouldn't have much time later so it's an early playthrough–hopefully none of the late risers want to move :/ Might at least try and poke in for a second to check on them…
Anyway, I did get lucky and Flurry wanted to move so I was able to easily stop her without worrying if I'd get a chance to pop on later.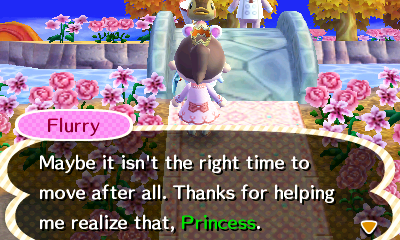 IT WILL NEVER BE THE RIGHT TIME, FLURRY.
And as you may notice… I had a Camper today.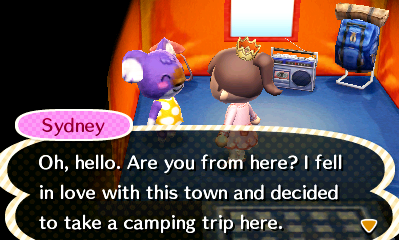 Even though I won't be asking any Campers to move in, I still have fun checking who's here.
I didn't do too much else–but I did notice I still don't have my gold gardening badge so I may try planting something everyday… Palm Trees and planting stuff even if they don't grow count (like a normal tree on the beach), right?