Posted by: Jennifer | on December 26, 2013
I loaded up the game today not expecting much, but low and behold, another letter from Nintendo!: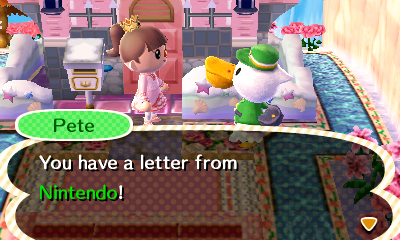 Even more exciting… what was in it!:
"Dear Jennifer,
With the end of the year
comes the excuse to bring
out fun decorations, like this
kadomatsu! What a perfect
time to get in touch with
your Japanese side! Enjoy!
From the multicultural cast"
OMGOMGOMGOMGOMG. WE GOT A KADOMATSU. AND IT'S ALL CULTURAL AND YES. THIS IS HOW I WANT TO FEEL. THIS IS WHY I WANT EVERY SINGLE ANIMAL CROSSING EVENT IN EACH GAME. CULTURAL EXPERIENCES ARE AWESOME. THEY TEACH YOU THINGS. DO YOU SEE HOW EXCITED I AM? I WANT TO CRY TEARS OF JOY (and almost did).
For those wondering what the heck is a Kadomatsu:
A kadomatsu ("gate pine") is a traditional Japanese decoration of the New Year placed in pairs in front of homes to welcome ancestral spirits or kami of the harvest. They are placed after Christmas until January 7 (or January 15 during the Edo period) and are considered temporary housing (shintai) for kami. Designs for kadomatsu vary depending on region but are typically made of pine, bamboo, and sometimes ume tree sprigs which represent longevity, prosperity and steadfastness, respectively. "The fundamental function of the New Year ceremonies is to honor and receive the toshigami (deity), who will then bring a bountiful harvest for farmers and bestow the ancestors' blessing on everyone." After January 15 (or in many instances the 19th) the kadomatsu is burned to appease the kami or toshigami and release them.
*rolls around in Culture* THANK YOU NINTENDO. Of course, we can't actually put it outside our home (unless you want a leaf sitting outside your house) and well, you can't burn it, but I did put it in one of Seamstry's rooms!:


So pretty T~T <3 seriously, I am so excited right now. And yes, it can be reordered! 😀