Posted by: Jennifer | on January 3, 2014
Even though I played yesterday, nothing really happened… Mostly just fixed some paths that ended up messed up from the Countdown and New Year Faceboard. As for today though, I found a lost item on the beach!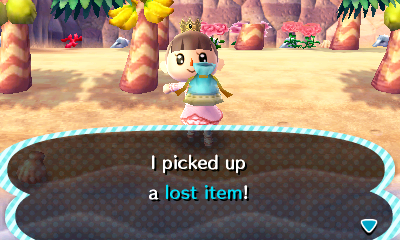 They really can drop anywhere–I found one on the bridge the other day. Guess you can never really avoid them even if you cover every part of your ground.
On a different note though, you might be able to notice I'm working on decorating the beach a bit. I'm not 100% sure of what I want to do just yet (mostly lining with seashells and coral at the moment–I need more blue ones), but I think it looks kind of nice. If anyone has any suggestions, let me know!
Anyway, the lost item ended up belonging to Cookie. Besides that, I updated my Dream Village.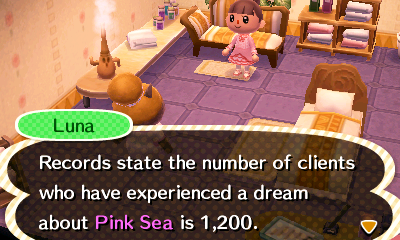 Thank you to everyone who has visited! Visitor 1,200 was Isis from Bliss :3 Thank you!
Now back to Seashell finding…
Edit: I had an Aurora again tonight!: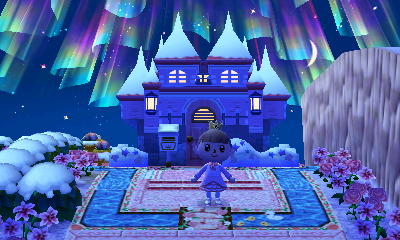 Edit 2: Lately on The Bell Tree Forums, users have been making cute Dream Village reviews so I decided to post asking for some :3 Here are their answers!:

From noahmeow:
It's obviously your town doesn't need any criticism, it's wonderful! There's a lot of complexity to your paths. Definitely very pink! All the houses were beautiful! I absolutely loved the middle-left room in the Emi house, I haven't seen a room like that. All the hybrids were thoughtfully placed, everything blends. Some towns seem choppy, but yours flows. Your town was the best i've seen! Thanks for replying, it was a great town to dream of.
From majnin:
Jennifer –
First impressions: First of all, your town name makes me want to restart and steal it because it's just amazing. I seriously want it. Now, onto the town. The first thing I see is an adorable water pattern around the tree with DUCKS. Ducks! So cute. Some nice bushes, and a magnificent pink path absolutely loaded with pink flowers. It's a good thing I love pink.
Landscaping: Your paths are done so so well and they are truly lovely. A wonderful bunch of flowers everywhere. All the patterns used in your town (paths, signs, town flag) were so cute. I lovelovelove the use of PWPs in your town. Everything fits so beautifully, it's like a magical dream.
Houses:
Emi- I could see a kind of sea/fish theme in the main room. Definitely could be organised a bit better. The right room is more of a garden. I'm guessing this house is used for storage? Or maybe you're just a bit untidy hehe. Upstairs was cute! It was like heaven. Downstairs was like an awesome aquarium. I loved the use of the lights here. Good idea.
Sir- The outside of this house looked really grand. The inside lived up to expectations! I see gorgeous furniture in the main room, reminding me of a kind of casino or gentleman's club. Very fancy, I love it. The back room is clearly a school room. It is nicely done and I liked the attention to detail (things on their desks ect) The right room is an arcade, I'm pretty sure. Nintendo and game furniture, it's nice but could be tidied up. The left room seems to be a children's playroom. With the aika doll D: Actually, it's a toy shop isn't it! Yes, I see the cash register and cute mannequin. Very nice. Oh my god. Your rooms are brilliant! I smiled when I went downstairs. It's a concert! Just brilliant. I applaud you. Upstairs we have a Sherlock Holmes situation. I am lost for words. Your interior decorating is just top notch.
Seamstry- The main room has a Japanese kind of theme with the music and furniture. I've seen a lot of these. The right room appears to be a hospital. At first I thought library but then I passed the bookcase. Honestly, your use of space is just so well done. Back room is a nice church. I feel this could be adorned better with some colours incorporated. Flowers and plants maybe? It just seemed a bit bland. The left room was like a restaurant with the street outside shown too. What can I say! You just inspire me with every room. This is very original. I'm running out of positive adjectives, can you tell? Downstairs is a sweet garden thing. Upstairs was like an autumn garden/stargazing thing. Pretty.
Jennifer- And now for this giant palace. The main room- absolutely gorgeous. Your character is adorable too! All the pink…I just love it. I love it too much for words. We have a cute pink kitchen on the left. Like I said before, no words. Not sure about the back room, was it storage? Or just a lot of cute things packed into one space. Downstairs is a mermaid paradise. Wow. And upstairs was similar to the main room, with basic furniture and a lot of pink c:
Villagers – I am jealous of every single one of your villagers.
Rating: 10/10
Would I come back?: Most definitely.