Posted by: Jennifer | on July 18, 2013
Video Log: Twitch
Re-tail Sign: Mosquito
Turnips: AM: Missed | PM: 141 Bells
Normally I don't include little subtitles, but I guess I felt it was fitting this time because, well…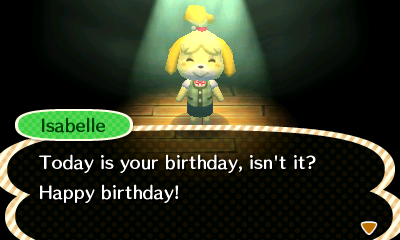 Yep, it's my birthday today.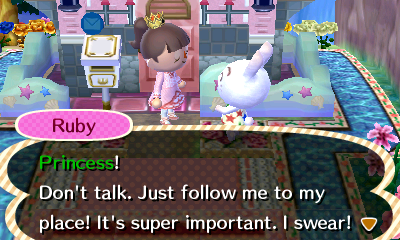 Ruby ended up dragging me away to…well…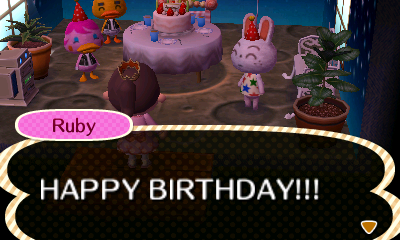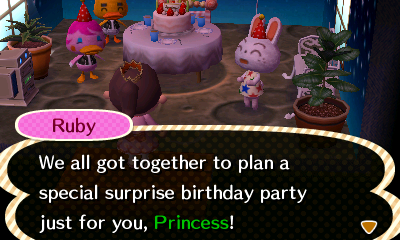 Yep~ A Surprise Birthday Party.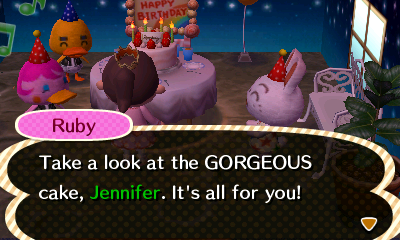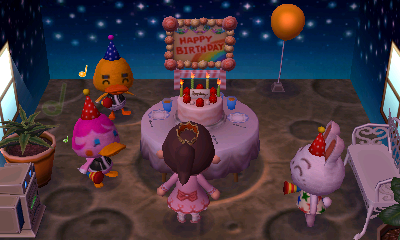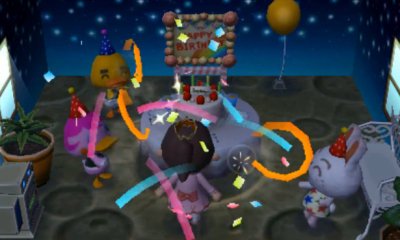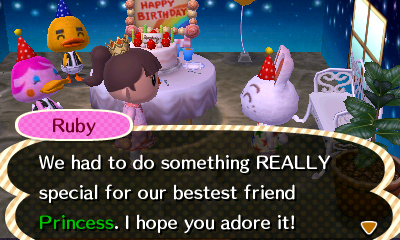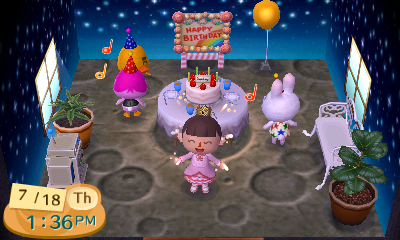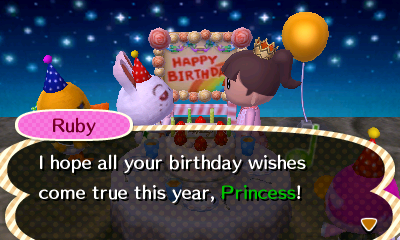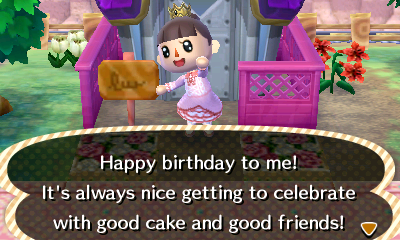 This is a really cute feature–I made a wish for "More Public Work Requests". I didn't really get to have parties with friends when I was younger, so it's a nice feeling sometimes to have one in a sense.
With the party over, I was sent back to my mailbox. I actually received mail from Kyle, Kiki, and Mom: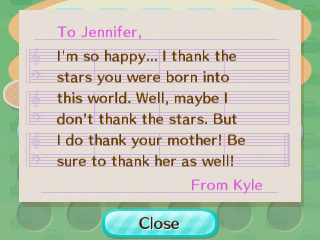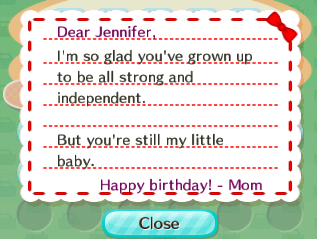 That's a…really powerful letter, Kyle. Regardless, they were all nice and I received a Rock Guitar, Cloud Flooring, and a Tiki Torch. I ended up getting a Birthday Sign from the party–while one of the items I like, I was REALLY hoping for the cake.
Lovely bulletin Board message: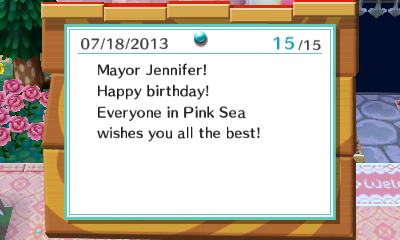 More working for Brewster~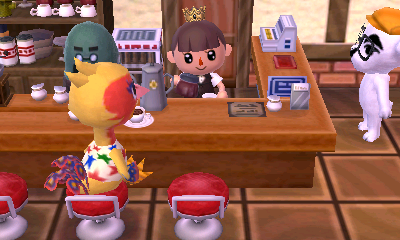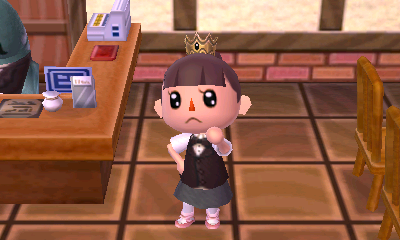 He gave me a Cafe Uniform (plus more of the best coffee beans).
Received my first special hat from Katrina.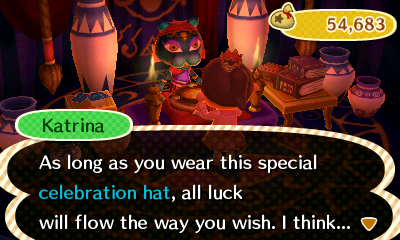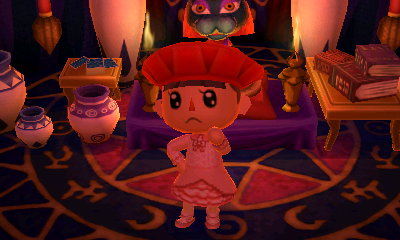 It's not very pretty…but it helps tripping. I think I'll just take the tripping though. I walk more than run anyway.
It was then time for Dr. Shrunk!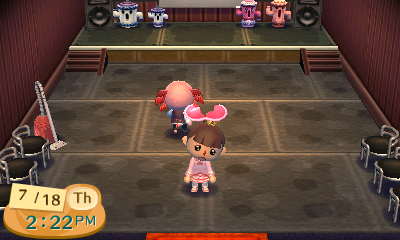 Heartbreak… :/
It was then time for try to get Ruby to request a bridge… which didn't work out. She didn't give me any kind of alert the first time I did, but someone else did: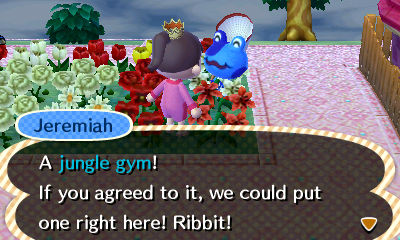 On the bright side, this IS something I want in town. So, time to figure out if I have room to put it in with Buck's house messing things up…
Placed and Paid off <3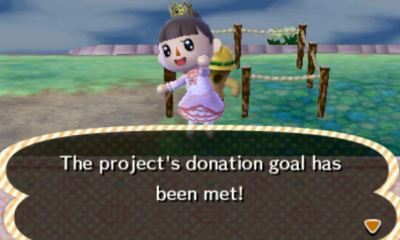 I'll be able to start working on the park area more soon. I just need a Water Pump suggested 🙂 And the Picnic Blanket–although, the Picnic will be slightly outside the park… And definitely way more pink hydrangeas.
Jeremiah then decided he wanted to come visit my house and I decided I was going to try and re-do my Teddy Bear Room a bit by just using my favorites.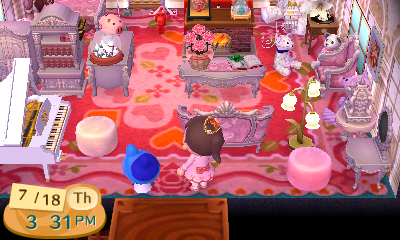 I decided to try re-doing some stuff in my town… I know I needed to put down like 30 more trees along with working out where bushes should go… Unfortunately, it's not something I'm very good at 🙁 Regardless, everyone was busy today so I decided to just do my best by myself…. Let's hope all the trees grow and it doesn't suck completely x-x If worse comes to worse, if I at least hit a perfect town, I can get rid of some again… Also decided to try re-working the Teddy Bear room… shall hope it works out well >< Anyway, Blue invited me over as she had a present for me. Snoops and Emily had some too @-@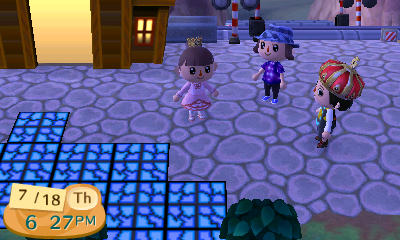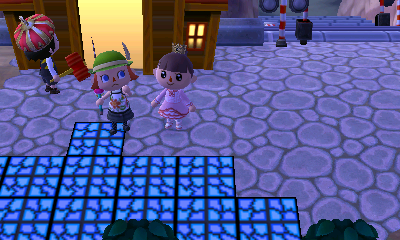 Thank you all <3 I received a Gracie Bed, Golden Clock, Triforce, Patchwork Lamp, Amethyst, Pink Zap Helmet, and Pink Tulips. It then hit me I hadn't seen Rocco for a while so I went to visit him and well, my suspicions were right...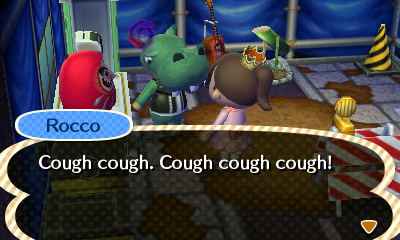 He's sick 🙁 I gave him some medicine.
Gina then came over to surprise me with presents <3 She gave me a Princess set 😀 And some beans~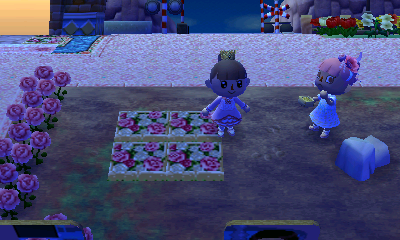 She also asked me to check our her dream village so….
Dream Address: 4400-2139-8433 – Furittus Village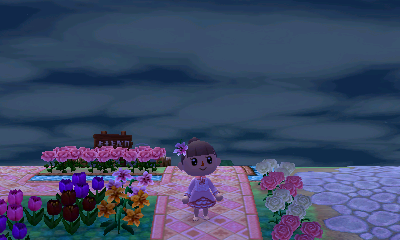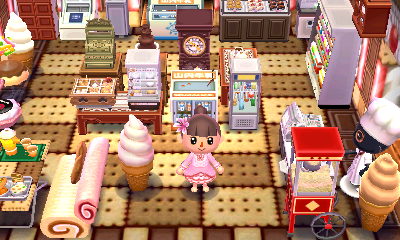 All the Sweets Players taunted me.
…At least, until Imaginos surprised me with one.
https://pinkwaters.crystal-dreams.us/random/1780.png
THANK YOU! 😀 And that was it for today <3 ---------------------------------------- Day 18: You with a Public Works Project