Posted by: Jennifer | on July 25, 2013
Re-tail Sign: Evening Cicada
Turnips: AM: N/A Bells | PM: 59 Bells
Despite saying I wasn't going to pop in at 6AM, I did take a moment to poke my head in. I still haven't decided who I should go for first though. Regardless, I had mail from Redd (as a friend let me order some paintings from his town) so it was nice to clear out my inbox. I received a Lovely Wall from Joey as well for visiting his house.
As I went around to fossil hunt, I noticed Katie is in town today.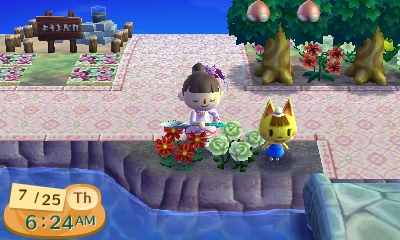 Unfortunately, nobody is online for me to take her to at this time so I decided I'll take her somewhere later.
Besides Katie, it seemed I had one other guest today.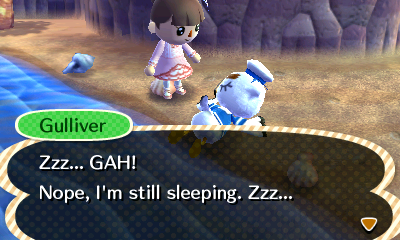 He was heading to Hawaii. Sadly, I already have that item.
Anyway, I then stopped at Brewster's for Coffee.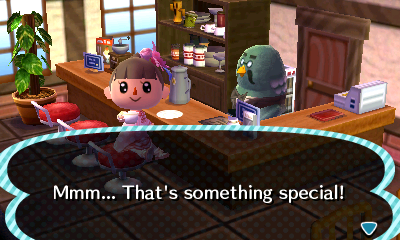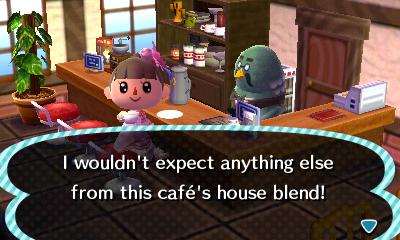 Then, someone got on so it was off to bring Katie somewhere.


Thank you <3 Upon getting back to town, I then let myself get stung intentionally by bees for today's Photo Challenge. I actually do not shake my trees so... but yep, got it over with and then used one of my emergency medicines. Having fun in VillageDweller's town~: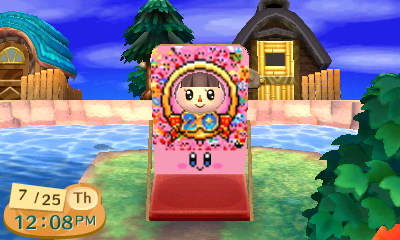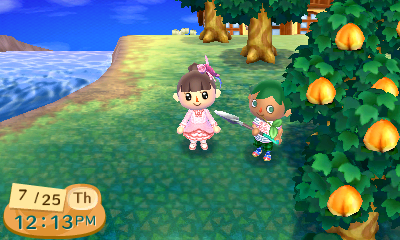 Anyway, with that done, it was time to take a break for a couple of hours until Miranda (or well, whoever I decide to go after…) is up.
Upon getting back, I went to pick up the Kokeshi Doll~ :3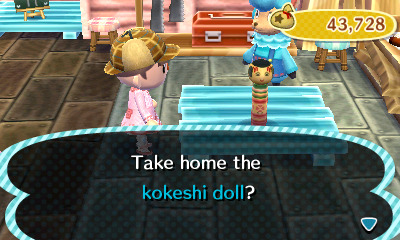 Yay 😀 I gave him the Blue Wall Shelf next.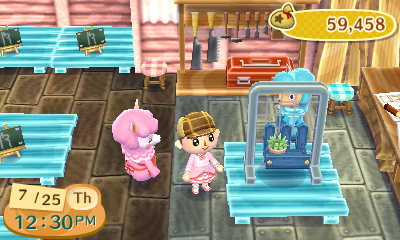 I then headed up to Main Street to see Dr. Shrunk and do shopping clearouts.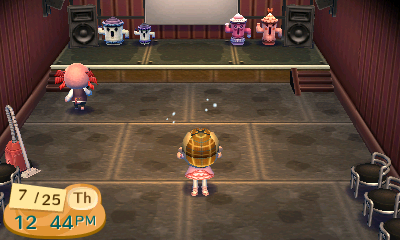 Sneezing Joke @-@ So I can do what I do all the time in real life…
I then went and picked up the Blue Wall Shelf.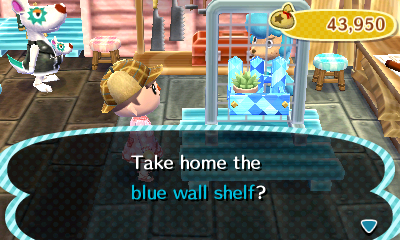 Next, a surfboard :3
Time to Celebrate the second reserve sign… Yay… :/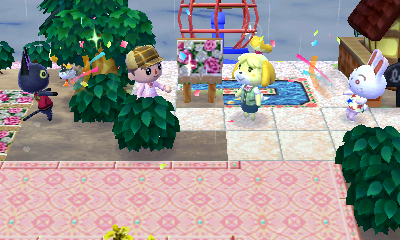 It had started raining, but after it stopped…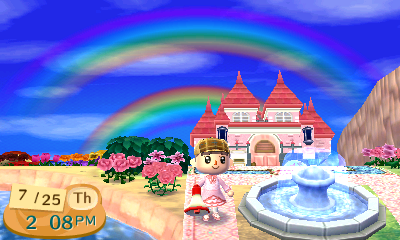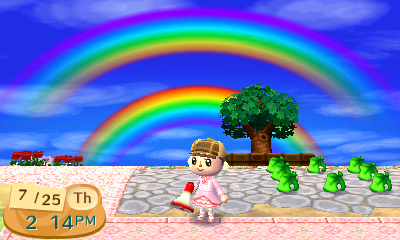 Double rainbow! 😀
I then picked up the first Surfboard and gave him the next one to do :3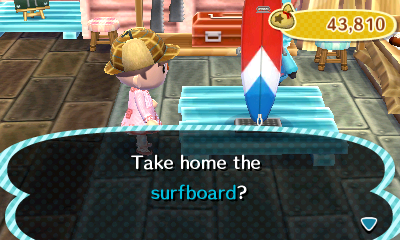 In the meantime, I made sure to work at Brewster's. No new item today though. After that, it was back to lots of item switching again @-@
Picking up the other Surfboard :3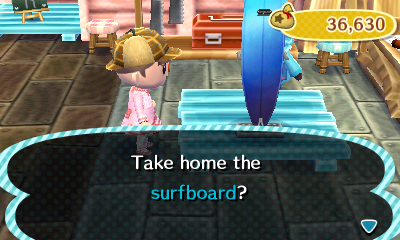 If the music gets in, I'll make a music box later. Don't have the music for the other one though… And I need another clam for one more… On the bright side, yay for figuring out the music for my other character's houses.
After getting all that set, it was time to try and get a Public Work x-x I decided to go with my original plan of Miranda – Phoebe – Rocco – Kiki so let's hope for the best.
Sadly, after about 30 minutes or so of refreshing to try and get Miranda walking around outside and no luck, I decided to try Phoebe instead.
Things I hope she suggests:
Picnic Basket
Geyser
Windmill
Other things she can unfortunately suggest:
Modern Bridge
Wood Bench
Log Bench
Wisteria Trells
Scarecrow
Bus Stop
So we have about a 33% for something actually wanted 🙁
1. She asked how bright I like it when sleeping.
2. No bling from Phoebe… Astrid gave me a Gelato tee.
3. No bling from Phoebe again… Kiki wants new furniture. She gave me a Polka-dot TV as thanks.
4. Once again, no bling… but Astrid stopped me and tried to suggest this: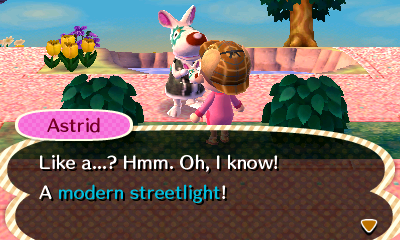 Since I'm on a time limit, I reset. Of course, before I went back to trying to get requests, I was greeted with a full mailbox. I then stopped by Re-tail to pick up the White Violet Screen: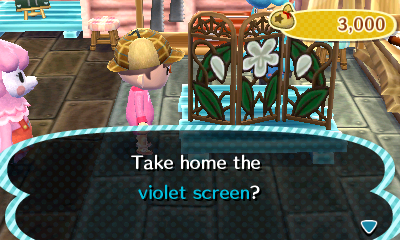 And get the first music box made…well, I still need the music for the other two…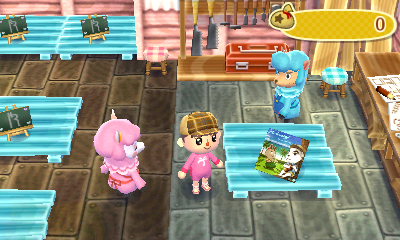 Unfortunately, nobody was out again so it was time for more saving and quitting… While Astrid has been out pretty much everytime, I didn't want to try with her since she's moving and I'd really hate to screw that up. Kiki has also been out, but she's last on the priorities no matter which way I decide to do it unless Phoebe is suddenly like "I want to move!" so… Much quicker than last time at least, I got Phoebe again. Miranda seems to just hate walking around in the main area :/ I can get her out of the house and in like Main Street, but not the actual map…
5. Apparently Phoebe still hates me… -_- Rocco wanted to know what I thought of him.
6. why won't Phoebe bling. EVERYONE ELSE IS BLINGING. Anyway, Astrid asked about my hair.
7. Astrid caught me on my way to see Phoebe… Wanted to know if I thought she talks about me behind my back.
8. FINALLY Phoebe blinged me… unfortunately, she wanted a Bus Stop :/ So reset again… A Bus stop was one of the projects I wanted in the past, but it didn't make the final cut.
9. Phoebe asked what would be a good pet.
10. Phoebe asked for a new greeting.
11. Phoebe wanted to know if she could call me Princess.
12. Got caught by Rocco…asked me about his catchphrase.
13. Phoebe gave me back the Peach I mailed her :/
14. And then gave me back the banana I mailed her…
15. She asked about a pet again…
16. Complained about a magazine she liked…
17. Caught by Buck… he wanted a traffic signal -_- Starting over again…
At this point, I took a break as it was 8:20PM and I was going somewhere at 9PM so I figured I'd take this moment to clean up the town tree and update my Dream Suite. I also picked up my music box and gave him another Kokeshi doll to do.
As for where I had to go…well, it was a special Christmas in July Party held by Gluxbox so I got on a Cute (I can't help it, I find all ugly sweaters cute T__T) sweater and a nice white skirt and was ready to go: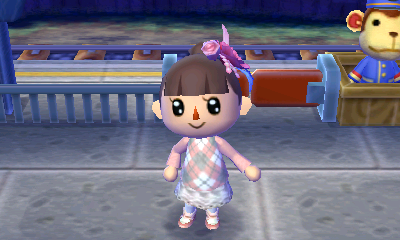 Everything was decorated in "snow" :3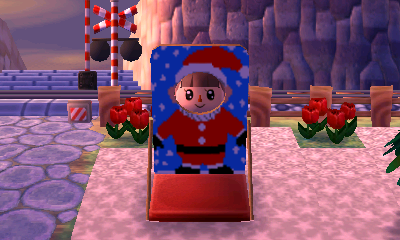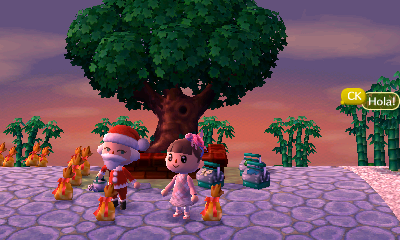 Even though I couldn't stay long (so many people afterall!), I had fun <3 Thank you for the nice time! I also managed to get a Gracie Hat which means I am done for Gracie preparations 😀 I then stopped by Jessie's <3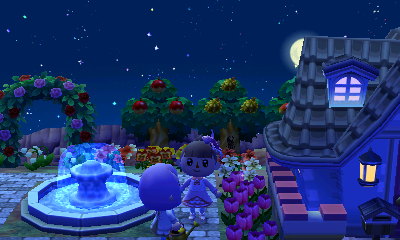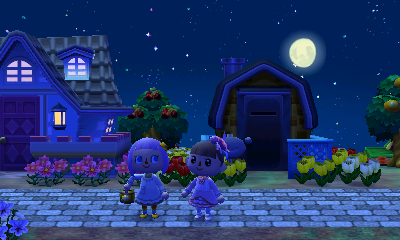 Thank you again for the dresses!
Anyway, I'm just going to continuing trying for a Public Work now… I guess I'll edit or make a new post if I manage to succeed… But yes, to end this, the other Kokeshi Doll being picked up: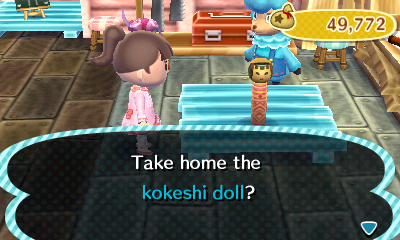 And it looks like August's monthly DLC will be the Firework Table @-@ Need to decide where to put that…
———————
July 25th: You with a Bee Sting