Posted by: Jennifer | on July 28, 2013
Video Log: Twitch
Re-tail Sign: Dress
Turnips: Sunday! Joan was selling for 95 each.
Today is a special day… I can FINALLY build my bridge! No more having to go ALL the way around from my house. It is very exciting 😀 Too bad Phoebe isn't gone as then I could start my private garden too, but I still need 2 more projects from her (and 2 from Kiki) before she moves anyway so…
Regardless, it shouldn't be surprising that one of the very first things I did was run to Town Hall. Of course, I couldn't place it just yet… It was time for the Windmill Celebration!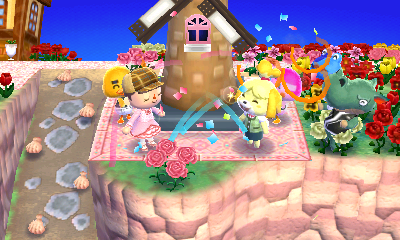 Then, I went to place where I wanted my bridge, and paid it off.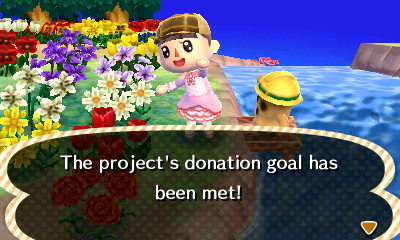 So happy T~T Tomorrow shall be the bell which should hopefully prevent someone from ever moving there again. I will also be starting some of the beginning works for my private garden area :3 But for now, my town is in lock down until I get at least 4 more things placed…
Of course, I also saw Joan on the way (and dug up fossils and found another Jacob's Ladder and another mushroom!).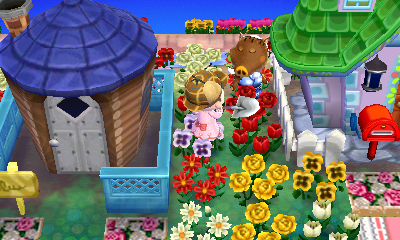 Even though I won't be buying any turnips, I did make sure to talk to her for the Photo a Day Challenge today. I am worried about tomorrow's though due to previous mentioning lockdown-ness. My boyfriend's town should be safe though–he's only had two people move and they both found homes.
I also dropped off my Hibiscus Clock at Re-Tail to refurbish yellow 😀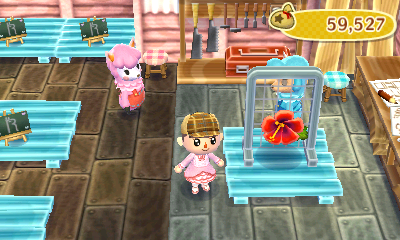 It's been a while since I was up in the morning so it was nice to get the shops cleared before Dr. Shrunk and have some early time to do things. Unfortunately, Phoebe won't be up until 11AM.
Picked up my refurbished Hibiscus Clock <3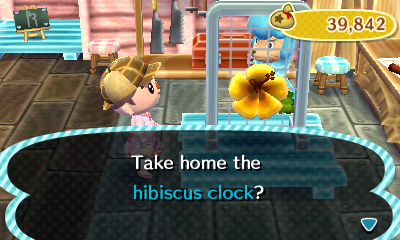 Inbetween item switching and Nook Loans, it was time to see Dr. Shrunk :3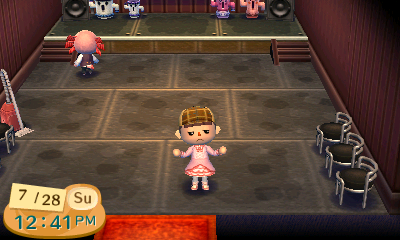 Resignation Joke :3
Thanks to Rainy, I was able to get most of the music I needed for my other character's rooms and the last stereos I needed. 😀 The only one I still need for a room now is K.K. Island. Yay! I know what I'm requesting next Saturday. For now, Forest Life is being remade into a music box.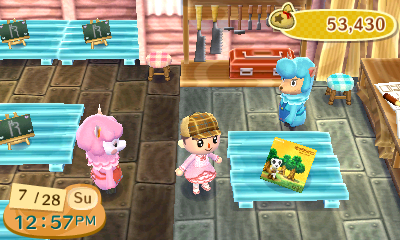 I wish the music boxes would stay on rather than closing when you leave the room or closing when the song finishes 🙁
Once that was all done, it was time to try and get Phoebe to request a Public Work again. Still need her to request a Geyser and a Picnic Blanket afterall.
ATTEMPT LOG:
1. Caught by Kiki. She gave me a Peach.
2. Phoebe escaped?? I honestly don't know how. So I went to see Rocco…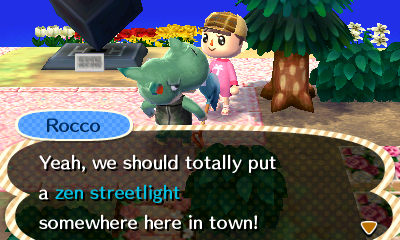 He made a request, but not the one I needed 🙁 so time to start over…
3. Phoebe escaped again… :/ Really weird. On my way to try and get Rocco, Joey caught me and gave me a hamster cage.
Anyway, since she kept escaping, I decided I'd try again later and for now go Scallop hunting as after discussion with Rainy, I found out all I'm missing is the Ship Cannon. Similarly, I only need 4 items to have all the island stuff–a Beach Chair, the Cabana Flooring and Wall, and a Kappa Costume (the top). Didn't realize I was so close.
It took longer than I'd like, but I finally got a Scallop.


With that, my Pirate set is complete!
I decided to go ahead and try again with getting a request from Phoebe… if she escapes again though, that'll be it for now. I just don't have the energy to go searching for her (while avoiding everyone else) due to still being sick. Similarly, since I have never had anyone escape before, I'm not sure why or how she suddenly is.
4. Talking about her favorite magazine being discontinued…
5. Phoebe disappeared again :/ I did, however, get the suggestion I needed from Rocco!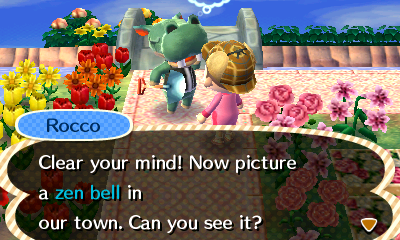 Yay! While I won't be building it tomorrow (I'll be building the normal bell first), I plan to build it on Tuesday unless the Picnic Basket is requested tomorrow…but then after the Picnic Basket. If Phoebe requests the geyser, then the geyser. This also means I no longer need any requests from Cranky villagers.
I then went to the island to see if any of the few items I needed were there. Unfortunately, no luck 🙁 And I wasn't going to risk going to Club Tortimer incase you could get random villagers through there too.
Anyway, to end it, I just love how nicely the Lighthouse and Windmill look lined up like this.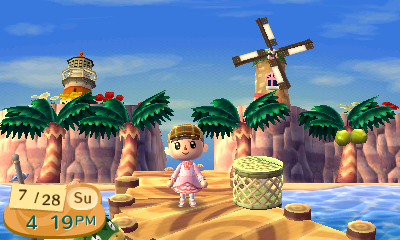 If I feel a bit better later, maybe I will do some Dream Suites, but right now allergies are just being made of pure evil 🙁
————————————————-
Day 28: You talking to Joan