Posted by: Jennifer | on July 31, 2013
Re-tail Sign: Olive Flounder
Turnips: AM: N/A Bells | PM: 130 Bells
Today was an extra early start due to work. It was raining today so I didn't need to wear my Detective Hat… I wish flowers still sparkled when watered by rain 🙁 I ran into Saharah.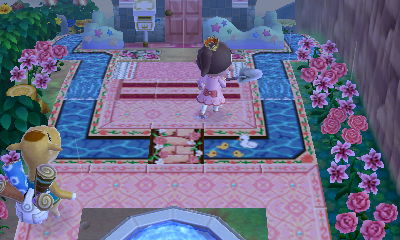 She gave me a Skyscraper Wallpaper and Plush Flooring. Yay for something unique at least.
I decided to get an early start on trying for a public work as Kiki was up and there's really nothing else I can until the shops open (plus, it's probably one of the best things to do while at work) so… ATTEMPT COUNT:
1. Kiki wanted to call me Lamb as a new nickname… I declined.
Before I tossed everything to the ground, I decided to see how the perfect town was going and…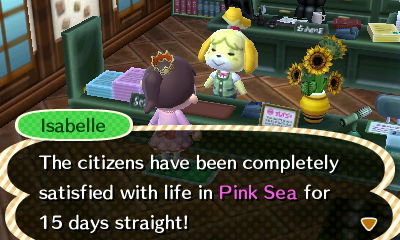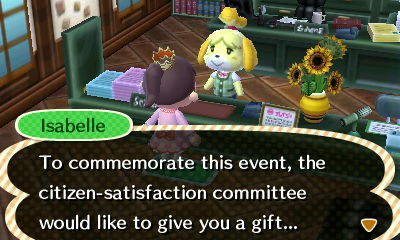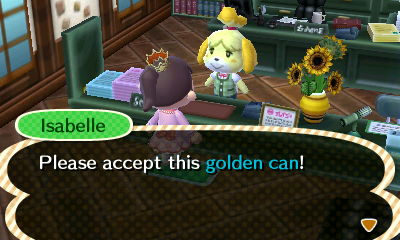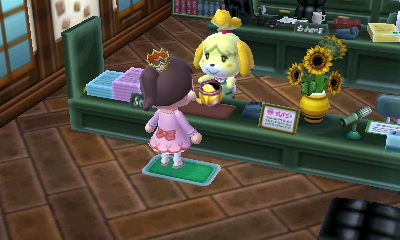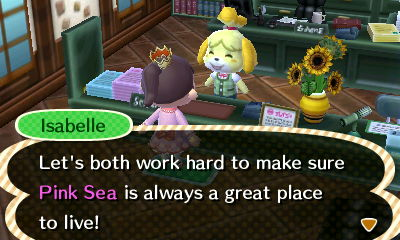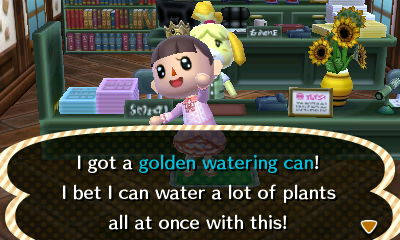 Yaaaay 😀 I do already have one though, so I will probably give to Bellsy to make flower breeding earlier–not sure what I'll do with ones on other characters just yet though.
2. Kiki wanted a new catchphrase.
3. Asked what snack best represents her.
4. Tried to suggest a flower bed…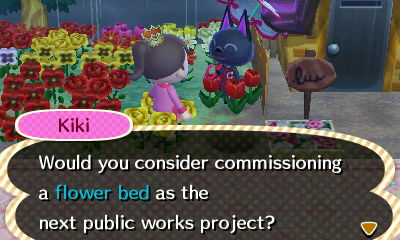 …Time to start over.
5. Caught by Joey–asked how dark I make it when I go to sleep.
6. Caught by Joey again… asked if I preferred sweet or spicy
7. Kiki asked me to get the petition "Bells for Basket Weavers" signed… will have to visit my mom's town later.
8. She asked about snack representations again…
9. Asked how I was feeling.
10. Flowers reflecting personalities…
11. Asked how I was feeling AGAIN -_-
12. Asked what drink would go best with corn bread :/
13. Once again how I'm feeling… I WILL CONTINUE TO BE AWFUL UNTIL YOU SUGGEST A DRINKING FOUNTAIN.
14. flowers again.
15. Joey caught me… gave me a banana.
At this point, I decided to pause for a bit as I had stuff to do :/ And I'd been doing this for hours now.
So, I bought out the shops, gave Phoebe medicine, sent mail, and then saw Dr. Shrunk.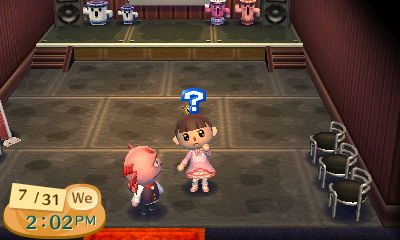 Curiousity Joke! 4 more until the finale :3
It was then time for loan paying off on Emi, Seamstry, and Sir before giving the public work stuff another attempt…. I decided I'd try Joey or Jeremiah this time since once I get the last one, both can move–plus, 6 of my dream villagers are normal so…
16. Joey tried to request a camping cot…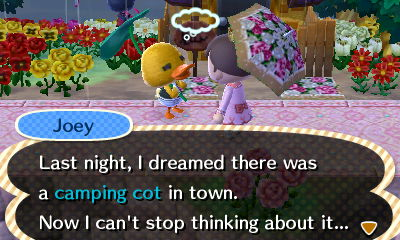 So reset again…
17. FINALLY!


Now I no longer need requests from Lazy visitors! Just the Water Fountain/Drinking Fountain from Kiki and the Geyser and Picnic Blanket from Phoebe and I'm good to go! T~T Yaaaay.
———————–
Day 31: You wearing your Mii Mask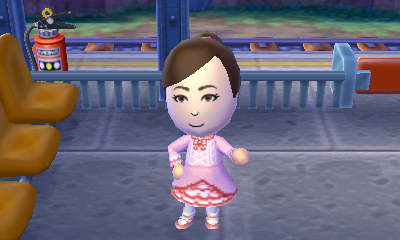 Photo Day Challenge Bonus: Photo-A-Day Group Photo