Posted by: Jennifer | on August 22, 2013
Re-tail Sign: Goldfish
Turnips: AM: 64 Bells | PM: Missed
Saharah ended up being in town today.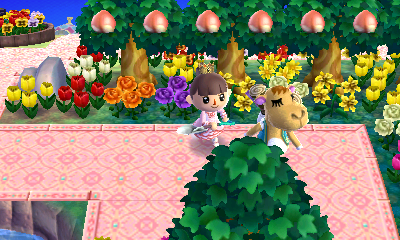 I won't be bothering with her though–I've catalogged every wallpaper and carpet now and while I'd like a Basement Floor (and maybe wall), it's not really high on the priority list and I'd like to save my bells because all my dream villagers have officially been achieved! 😀 I still need Molly, Merengue, Maple, and Marina to move over from Bellton, but at least they are all officially here. "wait, why would you need bells then?" you ask? This is because I am now hoping to help my boyfriend out and well, his dream villagers are a bit more complicated than mine:
Ankha
Roscoe
Lobo
Whitney
…yep. I'm going to do my best to help him out with them. He also has 5/10 of his dream villagers in his town (Avery, Phoebe, Bianca, Cousteau, and Lopez) with #6 waiting in Bellton (Zucker) so just those four to go! I'm not sure how popular Roscoe is and I've heard mixed things on Lobo so I expect Ankha and Whitney to be the hardest…

Buck tried to give me a new nickname.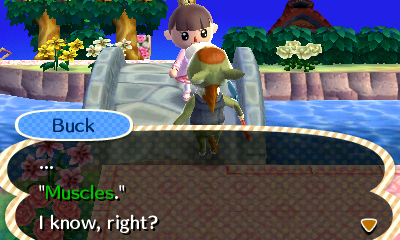 I've never said no so fast in my life.
I went to say Hi to Cookie… her house at least looks a bit better now that it's built but…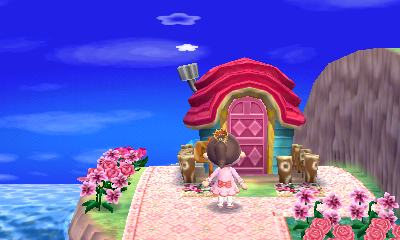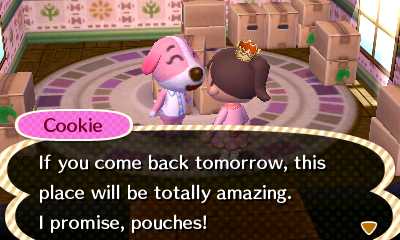 …it'll be a bit before I'm fully used to this.
I didn't really do much else besides random favors for villagers, catching fish for the basement on Emi, and buying out the accessory store on Seamstry again due to having to work today. I wish I had a better idea on what to do for that mannequin from Labelle because I keep hearing mixed things :/ And it's always the one that takes me the longest. I need to start buying it out on Sir once Seamstry gets hers and I just want these mannequins already…
I may look into trying to get move prompts faster however to get the last 4 villagers in… I'd just like to have everything done with so I can stop stressing–especially as the only people left to move are Ruby, Kiki, Kyle, and Buck–3 of which involve me having to essentially ruin my town to protect areas 🙁