Posted by: Jennifer | on August 27, 2013
Re-tail Sign: Fruit Beetle
Turnips: AM: 40 Bells | PM: 144 Bells
It was rather foggy ingame this morning…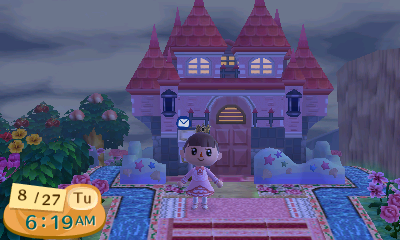 I wonder if it'll rain.
It turned out to rain a bit at the 8AM hour, but since I loaded it up shortly before 9AM, it didn't last very long. It's still cloudy though so I expect it to rain again. In the meantime, Julian ended up wanting to go to my house again…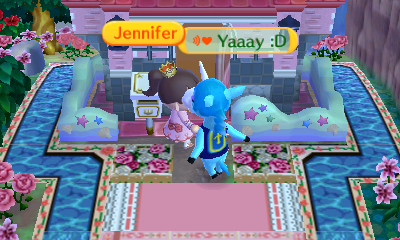 Seriously, I feel like my house has become a giant tourist attraction to my villagers.
I managed to get a shirt I hadn't catalogged yet in my Able Sister's today <3 Yay~ I also got a moving prompt! From Kiki. Thus, it was time to move forward to her moving date... But first, I had a sign to demolish in preparation. I also remembered I had to give something to Kiki and surprisingly, it turns out she had ordered it to give to me...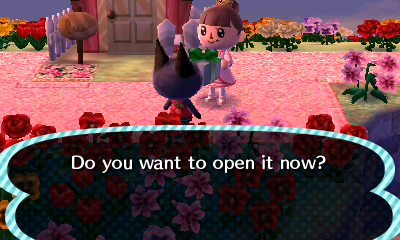 It was a gold-bar tee 🙂
Thus, it was time to quickly move her out and I made sure to say good bye.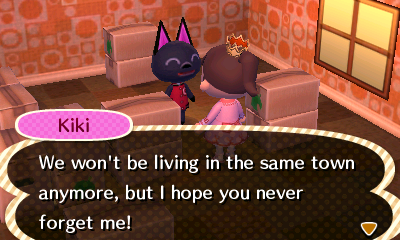 I won't, Kiki <3 Kiki's Goodbye letter: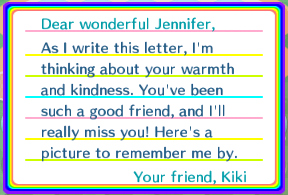 T~T
I then went to invite Molly: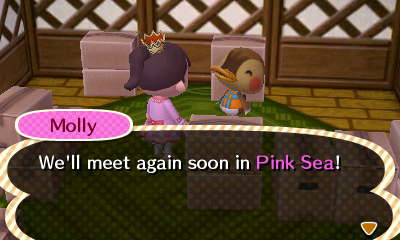 She even put her house where Jeremiah's and Flip's used to be T~T <3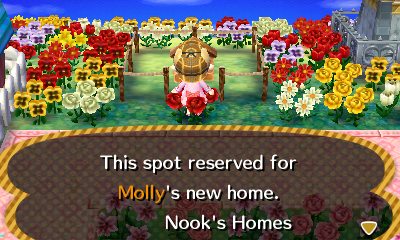 THANK YOU MOLLY.
And even a pretty rainbow: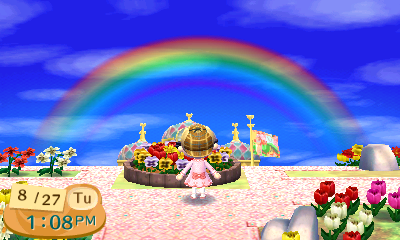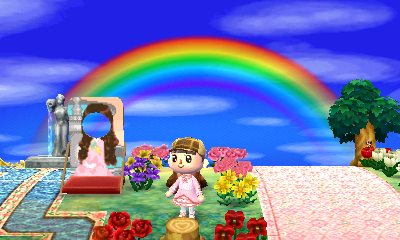 <3 Unfortunately, since I currently have to have this fountain in the middle of a path until Merengue, Maple, and Marina are moved in, I will not be updating my Dream Suite for a bit 🙁 Peanut ended up requesting a Round Spotlight.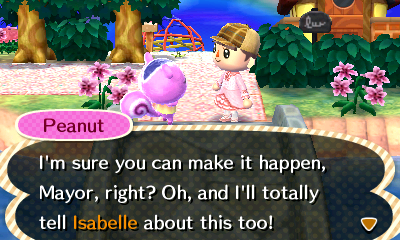 It also made me realize that while I managed to get most of the stuff I wanted requested, if the limit is ever increased, I didn't get everything I'd want… Sadly, the rest are stuff from Uchi villagers and I won't be getting another so bleh. Though, if they ever increased the limit, I'd hope they would increase the ways you can get them too :/
Marcie asked me to dig up her time capsule.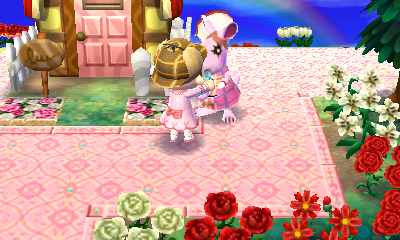 She had buried her candy machine. …Poor candy….which she then gave to me.
Anyway, besides that, I tried to work a bit more on flowers… Still need to move over a bunch though x-x And that was really it today.