Posted by: Jennifer | on August 28, 2013
Re-tail Sign: Headgear
Turnips: AM: 363 Bells | PM: 172 Bells
Well, firstly, September's DLC item was announced!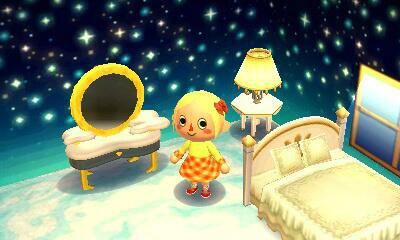 The Full-Moon Vanity (Japan will also be getting the Shaved Ice Lamp next month–it's nice to see everyone getting the DLC!) I expect this to be for everyone, but the US twitter and website seem to be a bit behind @-@ In fact, the Rainbow Screen and Palm Tree Lamp are still up on the Website… never got updated with August's Fireworks Table. And the US hasn't done anything like the UK's giveaways… Anyway, I expect the Pile of Leaves to be October's item with November starting the Zodiac set. I'm not sure when the Hagoita or Rice-Plant Bed will be given out, but I'd expect the Kadomatsu would be given out around New Year in Japan in a similar way to how the Turkey and Yule Log were given out near Thanksgiving and Christmas respectively. Kimbap Plate and Tteok Plate are others that I'm not sure when it will be given out, but I expect it to be given out in a similar sense–just for Korea. Of course, they could possibly be handed out like the Top was too. I would expect the Red-Horned Hat, School Cap, and White School Cap to be more like the top though. I think the other Europe DLC will be a continued Nintendo Zone/GAME Promotion once their current ones end.
Also, thank you to Mikayla for the heads up <3 Anyway, Molly should officially be moved in now (well, unpacking boxes...) so I ran over to greet her.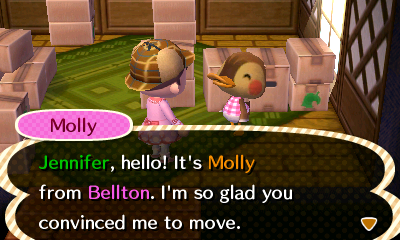 Yaaaay.

Of course, it seems my dream villagers still residing in Bellton at the moment seem to want to be move priorities… which is incredibly bittersweet. I'd love to get them out ASAP, sure, and Merengue is even the one who asked to move this time! But… I have such awful luck with move triggers. And I only have a 2/10 chance right now (since Kyle has to move last since I have to use a incomplete Reset Center to save that area). It's just really stressful honestly. 🙁 The things you have to do when you can't or fail miserably at using the Reset Trick…
Kyle ended up showing up at my house randomly @-@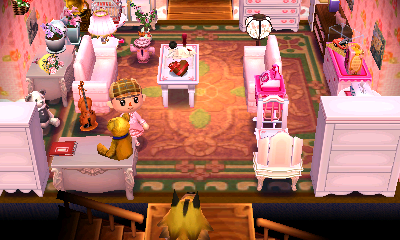 I still never expect it so it always throws me off. He gave me a Saddle Fence.
…I really just love frolicking through the flowers around the clock.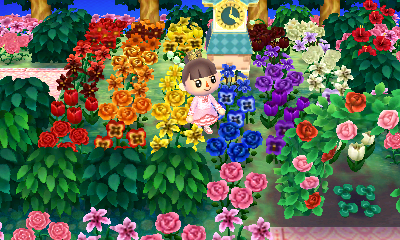 I'm just really happy with how it came out.
Anyway, I finally moved over all the flowers I had to so far… but still tons I need to get to grow in the first place 🙁
Also still can't decide what to do about the moving issues… Timetraveling just makes me sad, but at this rate, I don't think I'll be able to get the last 3 moved in and public works placed (minus topiary for obvious reasons) by October otherwise 🙁 this just kind of stinks.