Posted by: Jennifer | on September 5, 2013
I ended up starting Animal Crossing a little later than usual today due to just feeling terrible and not in a great mood. Unfortunately, it seemed the town was reflecting that–but it means I can be in my crown again today so yay.
-Flurry wanted to see my house again. She asked if she could come over at 2:30PM EST.
-While talking to her, I spotted Phineas in the distance!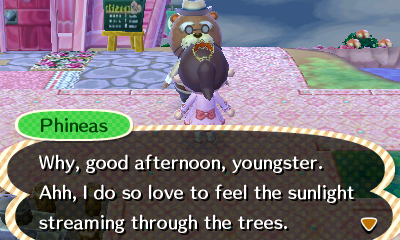 …It doesn't look very sunny, Phineas. Regardless, I got the Silver Weed Pulling badge!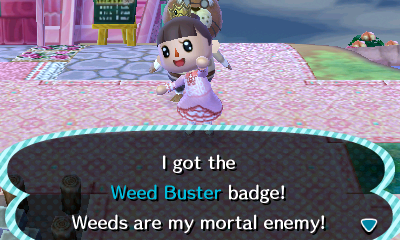 Yaaaay 😀 Still so many badges to go though…
-Found a Flat Mushroom by the Camp Stump
-Marcie asked me to visit her house. I put her at 2:40 @-@ Hopefully I can finish with Flurry quickly.
-Diana wanted something for her house. I gave her a Tall Lullaboid. She gave me a Classic Buffet.
-Sadly wasn't able to find the last fossil buried…again. Ugh, I really need to finish with flowers ._.
-Ordered some things to finish up the game room. This should actually mean everyone's room is finished–or well, close to. I still need some of the Harvest Festival trinkets (Sugar, Butter, and Milk) for various rooms along with a Museum Model for the Model Exhibit, and stuff like DLC not out yet for a few rooms.. Also the Rice Cake for the Garden in Seamstry's house and another Mannequin and a Mega Oboid for the basement of Sir's.
-Oddly, Flurry didn't show up… but Kyle suddenly bursted in? O-o weird… He gave me a freezer.
-Things then got odder… on my way to meet with Marcie at her house, Julian asked to come to my house… I got stuck on something though and when I tried to get back to him, he was all "just forget it" and sad now. Today really isn't going well v-v
-Debating on doing more additions to the space room… Would need a Silver Ore, another Super Star, and another S.S. Dolphin though…
-Thanks to awesome105, I finally got the Shogi Piece!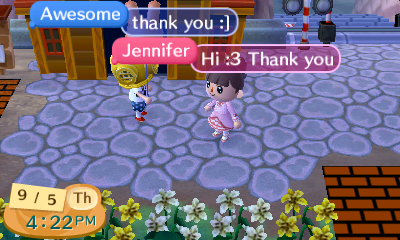 This means I only have the Museum Model left and then, excluding DLC not out yet (for obvious reasons), I have catalogged all the furniture. I will have it at the end of the year at least–can't wait to be able to put it in the Model Exhibit…
-Peanut wanted some fruit.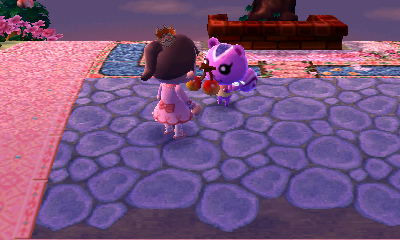 She gave me a TV with a VCR as Thanks.
-Julian asked me to bring Marcie over. Apparently he wanted to tell her that she's going to be his tennis doubles partner. Julian gave me a stove as thanks.
-Thanks to my boyfriend, I got a silver ore so I am refurbishing a Polkadot Dresser with it and a Night Sky Tee.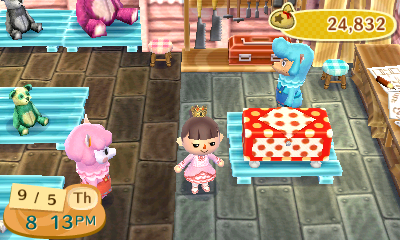 All done: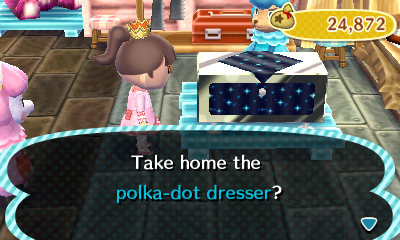 And that was it for today <3 But to end it, a screenshot in the Zen Area: