Posted by: Jennifer | on November 13, 2013
Sadly, I haven't been able to play much at all between not feeling too well and various things coming up. Regardless, I made sure to try and put some time in today despite feeling terrible. It doesn't seem anyone is moving, but I'm still paranoid…
In the meantime, I made sure to give Diana some medicine. I also tried my luck with fortune cookies for another S.S. Dolphin (Olimar's Ship) but no luck! I also went and updated at Dream Suite.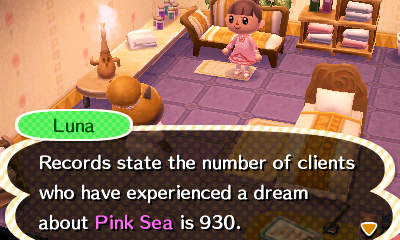 Thank you again to everyone who's visited! Over 900 now 😀
I was hoping for a new SpotPass house, but I didn't see one this week… Despite that, there is an update to the Animal Crossing Plaza on the Wii U tonight so make sure you update if you have it!