Posted by: Jennifer | on July 1, 2014
So, I loaded up my game for some late night playing and was surprised to see another letter from Nintendo!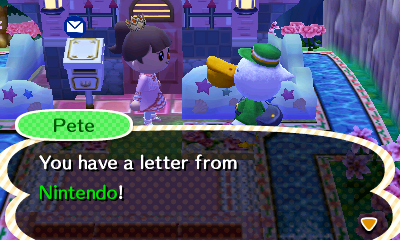 What it said:
"Drear Jennifer,
Summer means BBQs, and
BBQs mean parties! Here's
something that'll help you with
all your summertime needs!
Just be sure to invite us
over once you get cooking!
From the BBQ moochers"
It contained a Smoker. This is normally something you can only get from campsite games.
I also had Redd in my town today, but he still didn't have a Solemn Painting in stock (It's the last one my fiancé needs).
Nothing else happened really today… just a continued slow process of trying to get those badges I still have to earn 🙁