Animal Crossing New Leaf
now browsing by tag
As most of you may know, I've been trying to get my date back to normal. It's been going pretty poorly and I only finally hit June today… of 2015 still. I've gotten about 2 months along so far and hopefully I can start picking the pace up a bit. Regardless, I ended up hitting the anniversary of my town (even if it is technically a year behind) and a new Special Event triggered. It's really cute, though, I had gotten my hopes up for all 10 of my Villagers showing up due to Isabelle's dialogue when it wasn't even close to that… Not to mention a random special villager seems to show up as well (besides Isabelle :P) which also caught me off-guard. Despite those issues, it's genuinely a very cute event: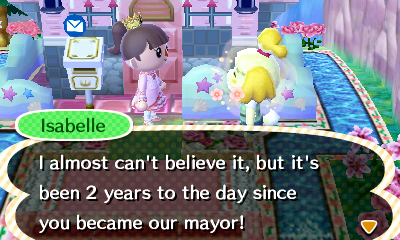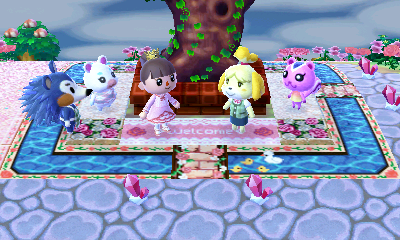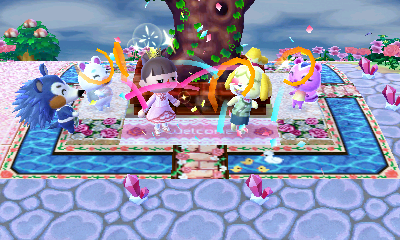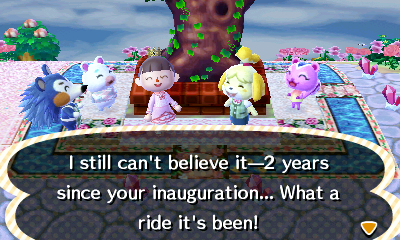 And the item you get is absolutely adorable: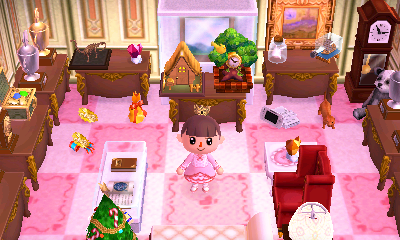 I'm looking forward to see if there are any differences when I end up triggering it again as I make my way to November 2016.
So, thanks to some help from a friend, Marcie has finally returned: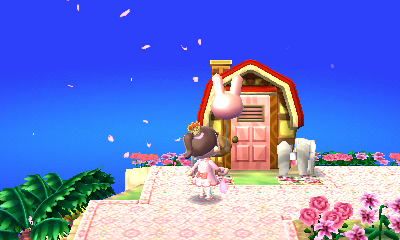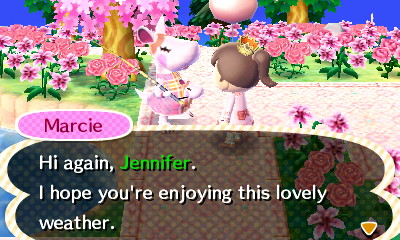 I'm just really happy she's back and we're back to 10 villagers again. Even though there hasn't really been any changes, I'm hoping to do a Dream Suite update sometime soon once I finish watering flowers. So many flowers 🙁
There was also a Nintendo Direct today which I will be talking about in much more detail over on my main site, but I will talk a little bit here too. Besides confirming more on the update (and a special version of New Leaf including it will be out later this year), a special direct for Animal Crossing will also be out this Fall. I wouldn't be surprised if it included the mobile game as well. Japan's direct gave a date of November 2nd for it so I'm expecting that same day here as well as the Directs have usually been the same day lately.
The new Amiibo cards look amazing though and I really hope I can get all 50. It's supposed to be all Villagers that didn't make it into New Leaf and so these are some of my favorites: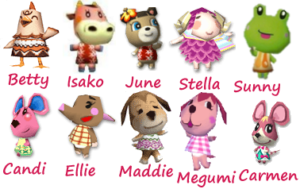 Though, I will admit that if some get in, I may end up wanting to switch some of my villagers… We already know Ellie is, but I think Megumi, Stella, and Carmen would be the ones most tempting–I really love my current villagers though.
The cards come out December 2nd in North America, but actually come out the 3rd in Japan (a day after the scheduled Direct) and the 11th in Europe… not sure why the US has such a large delay, but I feel like the update may be the same day as or the day after the special Animal Crossing Direct so it'll be a while before we get the new cards for it… So sick of the US being delayed like this 🙁
So, after nearly three years, I finally got all gold badges! I'm so happy.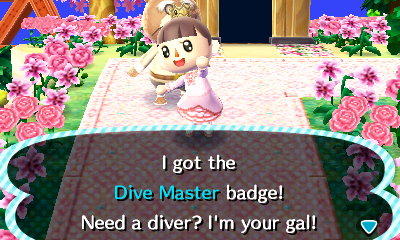 But yes, let's get to these lovely lines from Phineas…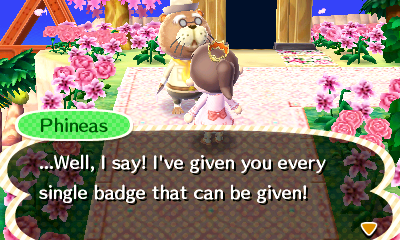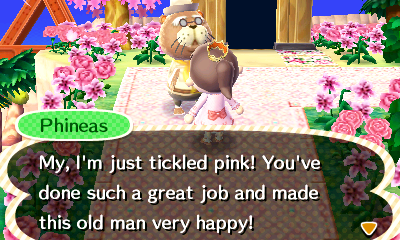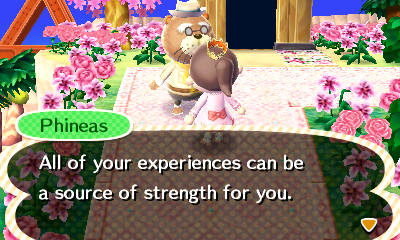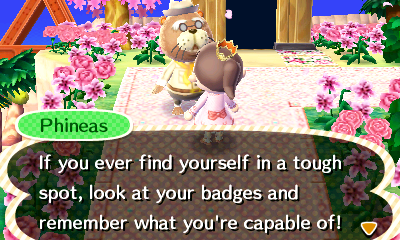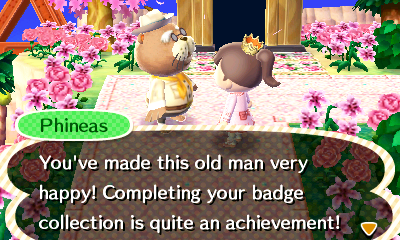 You can also watch me talking to Phineas with this lovely highlight from the stream I did today! (A link to the full stream is in the description of the video)
And to finish it off… All of the lovely badges: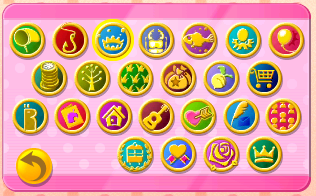 And my final playtime: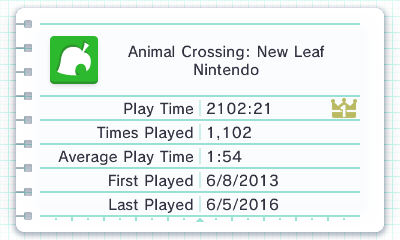 Yay! With that, the game is finally finished for me. Catalog complete, town done, all gold badges… Everything is finished. I might still play time to time to play with friends and/or do Dream Suite stuff, but for now, I can finally relax 🙂 And also get back to Happy Home Designer!
After catching at least 422 extra fish, I finally got the Fishing badge from Phineas: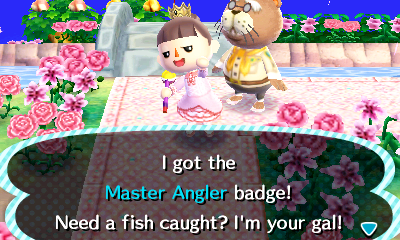 Now, I just have Diving left. According to my count, I have 778 left to catch. Hopefully I can do it!
Though… not the one I expected. So, I managed to get to 5,000 bugs and Phineas showed up!: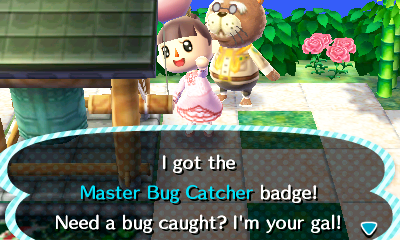 But he still didn't give me the fish badge which is… very odd :/ Even if my count was slightly off, I should've caught more than enough to make up for it and it shouldn't have been that far off to not get it. Even now, I've caught over 200 more fish and still have yet to get the badge from him which makes me worry it may end up being glitched like my tree was for a while.
If I catch 3,000 fish again and still don't get it, it's definitely glitched…but I'm really upset that it has come to this.
At the very least, I definitely accomplished another badge. And one will hopefully really be done soon and then I can fully work on diving.