Posted by: Jennifer | on August 9, 2013
Re-tail Sign: Giant Stag
Turnips: AM: 57 Bells | PM: 54 Bells
So, today actually started by Zed bringing me over for weeding day with Rainy and Nami.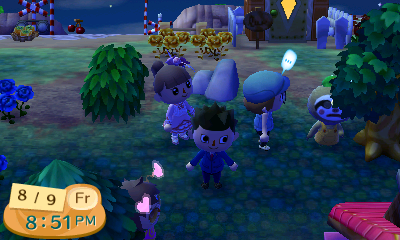 Much fun <3 I got a Lily Lamp 😀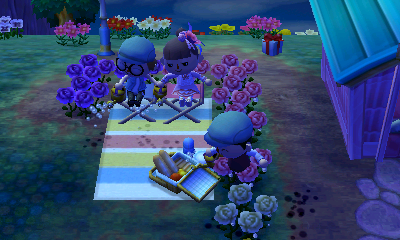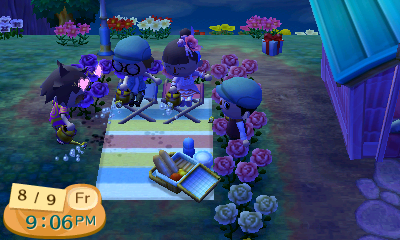 We had silly photo ops :3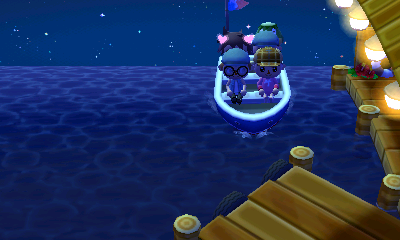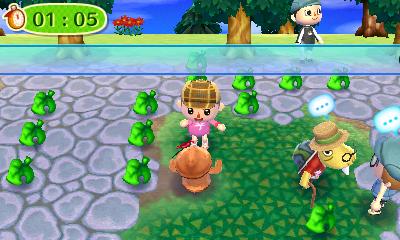 And then went to the island for minigames!
Anyway, upon getting back to my own town and timezone, I ran into Katie!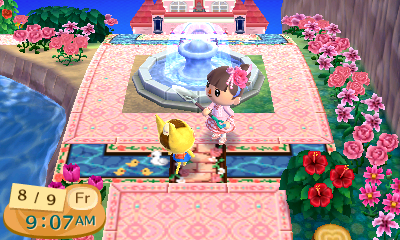 …if only I noticed her beforehand.
I've actually been getting a lot of public work requests lately.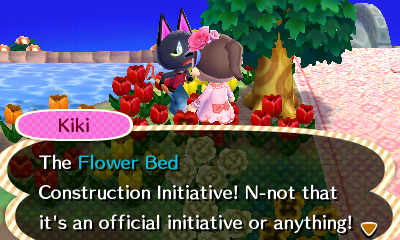 It seems being at max doesn't stop the requests which is nice.
After switching characters a bit for the usual item transferring, I was greeted by Pete with a special mail from Isabelle o-o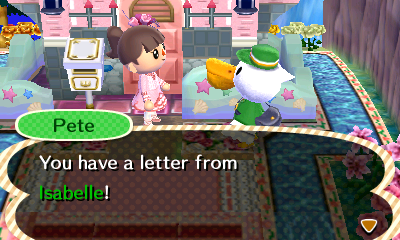 Before reading my mail, I spoke to Pete for a bit.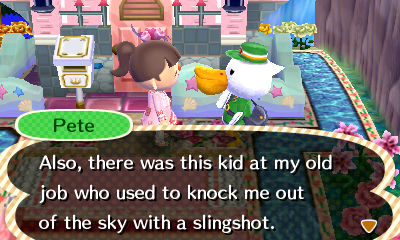 … >> I don't think I ever knocked him out at least. Anyway, the mail was about the new Animal Crossing Plaza on Wii U 😀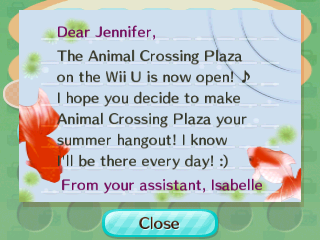 Attached was a Shaved Ice Lamp! I already had gotten one from Carina, but still nice to know they gave it out in the US too. I don't have a use for another though @-@
After that, I started trying to figure out what I needed to finish off some of the rooms…
MUSEUM EXHIBITS:
Royalty – Mostly the Golden stuff on my Wishlist, an Armored Knight x2, and another Mannequin (which I will have once Gracie's shop opens)
Model – Other models/places… I think I just need the Museum Model and Resetti Models though. Then it's just a matter of organizing them better.
Nature – Done!
Space – I don't feel like it's done, but I don't know what to add :/ I've thought of doing 9 Festival Lanterns refurbished to look like planets… PLUTO IS STILL A PLANET TO ME, OKAY?! …but comparing the shirt designs to planets = really hard x___x
EMI'S HOUSE:
Main Room: Need a Cabana Table
Backroom: I may re-do it, but it's mostly done. I just need to grab the pink balloon from my boyfriend and get her a mannequin.
Right Room: Need a Daisy Meadow flooring and then done.
Left room: More or less done… Need Western Fences and a Lawnmower.
Basement: More mermaid tables, the fish/bugs I want to catch, and Underwater Wall. I also really want the Cancer Table, but I don't expect that to be out until next July.
Upstairs: Done unless I can think of more stuff to fit.
SEAMSTRY'S HOUSE:
Main Room: Done unless I think of more stuff. Maybe a Fruit Basket?
Right Room: Tables, Chairs, Mannequin, More Bookcases…
Back Room: Mannequin
Left Room: Pretty much done…just need Strollers and maybe another Hydrangea bed.
Basement: More bonsais and things? I honestly can't decide what else to put/how to do it 🙁 Also need a Mossy Floor. And maybe something better in the back…
Upstairs: Lunar Horizon, Maybe some of the other camping stuff…
SIR'S HOUSE:
Main Room: Pretty much done. Just need a Mannequin.
Left Room: Pretty much done…also just needs a Mannequin.
Right Room: Need to figure out layout–maybe get more machines? Not entirely sure what to do.
Upstairs: More dividers, bathroom stuff, office tables + chairs, tea table, some other things… another Mannequin.
Back Room: Need Chalkboard and other Platform.
Downstairs: Rest of wanted Gyroids, Mannequin, maybe more instruments? Also metal gates.
It'll be a while ._.