Posted by: Jennifer | on February 15, 2015
So, I was popping in for my usual checkness to make sure nobody wants to move and crush my hopes and dreams and to my surprise, Phineas was walking around!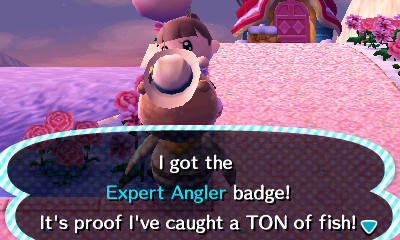 While I only received one badge, this one is pretty important as it helps me figure out just how much I have to go. I now know I need 3,000 more fish to get gold… I still don't know how close I am bug-wise though as it can be anywhere between 500 and 1,999. Regardless, now the Catching lots of bugs badge is the only bronze badge I have. Hopefully I can get the rest of the badges soon!