Posted by: Jennifer | on July 1, 2013
Video Log: Twitch (Partial Recording)
Re-Tail Sign: Gyroid
Turnips: AM: 87 Bells | PM: 84 Bells
So, today is an early start due to me trying to fix my sleeping by staying up and thus, Animal Crossing marathon! I was greeted with good news from the get-go…well, sort of.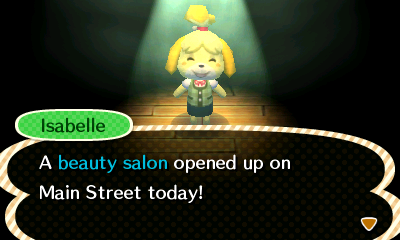 It's not opened yet and I technically don't actually need it… but I'll probably get a Mii mask just to say I have.
I wasn't expecting a storm at 6AM considering there had been no rain at all during pathing… Blah. But yep, full storm with lightning and everything 🙁 Not to mention I can't catch a Scorpion or Walking Leaf with this weather…
Anyway, I got a cute letter from Kiki and also a gift from Rocco for showing him my house–a Painting Set.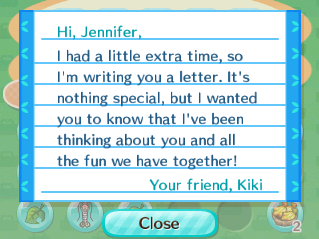 I ended up having a camper again today! This time it's Kabuki.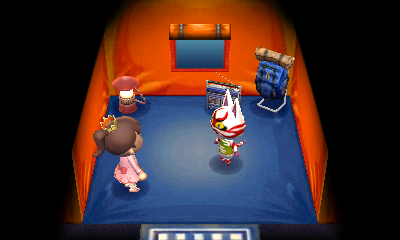 Nami invited me over to their town to pick up some pink roses. On the way, I noticed I had a new message on the bulletin board so I went to check.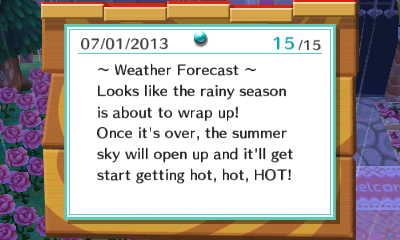 ….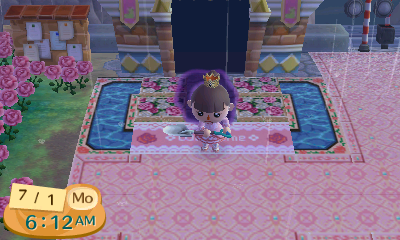 FOR SOME REASON I AM HAVING TROUBLE BELIEVING YOU 😐
Anyway, Nami's town was much less rainy.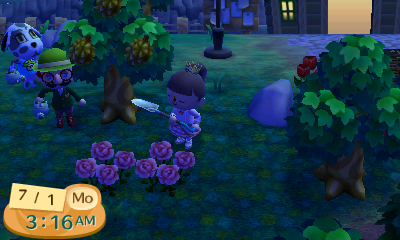 Thank you again for the roses! <3 I ended up finding Katie in my town.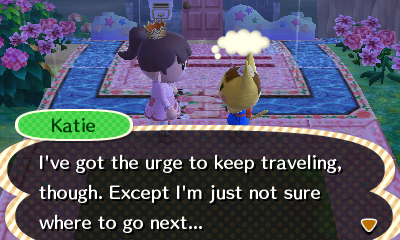 I run into her a lot it seems.
While Streetpassing, I received a Chocolate Soft Serve from my boyfriend again and saw someone I didn't recognize. Another SpotPass House, I guess?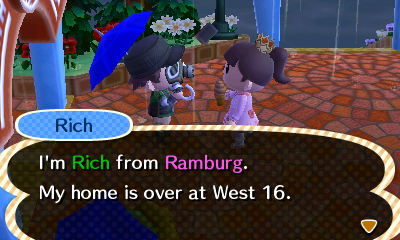 I ordered a few things from his house, but nothing really stood out to me.
Anyway, I still had to add Chananr to best friends so I stopped by to do that and also drop Katie off.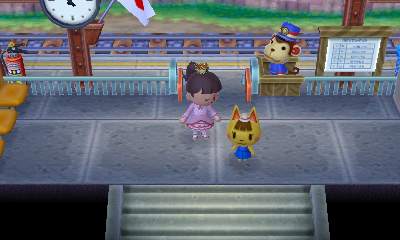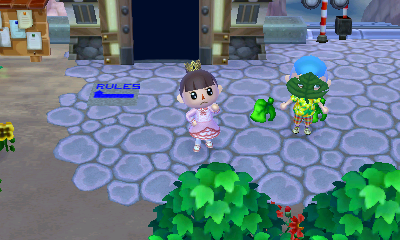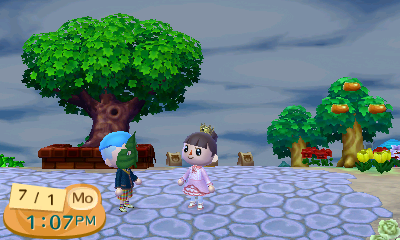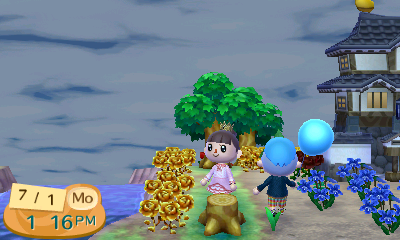 I had fun running around town <3 Gina sent me a message that she had turnip prices at over 400 so I went to stop by. Kind of wish I bought more than just 200 now.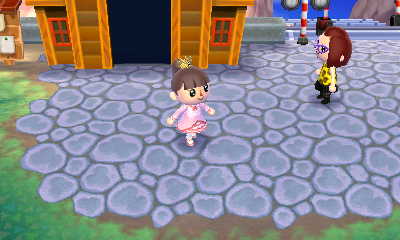 Still happy I at least made a profit.
Unfortunately, it's past 8 and still raining :/ Which means I'm losing out on time to try and catch a Walking Leaf. Really sad ._.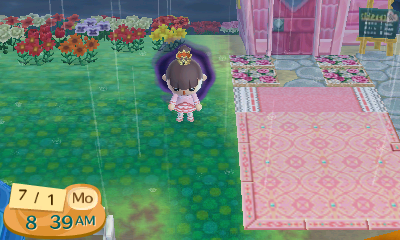 If this goes through the night too, it'll kill Scorpion chances as well. Speaking of ruined chances, my trying to get a Heart near my house and butterfly near the tent is still failing–I got a Butterfly near my house and an X near the tent 3 At least a nice warm drink at Brewster's made it a bit better.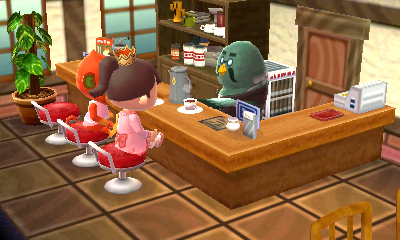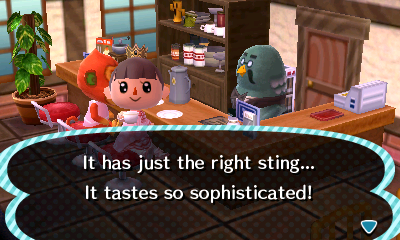 Anyway, due to the rain and the fact that I couldn't do anything until 10AM anyway (since that's when the stores open), I decided to take a break.
It was still storming upon logging back in. I wasn't thrilled :/ I pretty much gave up my chances at a Walking Leaf today. Possibly a Scorpion as well. *sighs*
I updated my Dream Village (I did work hard on my pattern setting up for a reason), but the weather is kind of awful… :/ Then it was off to Dr. Shrunk.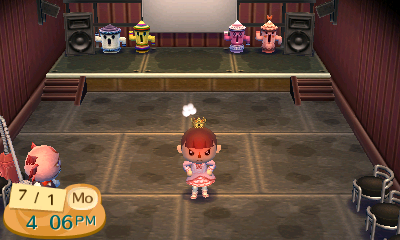 The Outrage Joke–pretty much exactly how I feel about the weather in my game right now.
It was then off to Nook's to pay off my second to last loan, expand my last room, and be ready to pay off my last loan tomorrow. Pretty excited–except when I remember I have 3 other characters I will have to do…
It was then time for Shampoodle.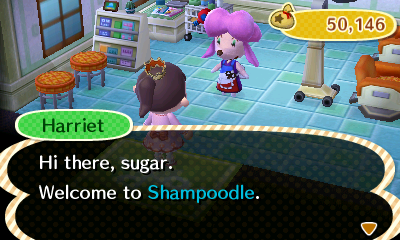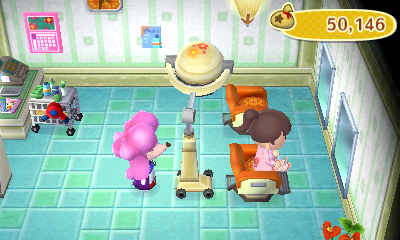 I got a Makeover just to unlock the Mii Mask [even if I will never use it].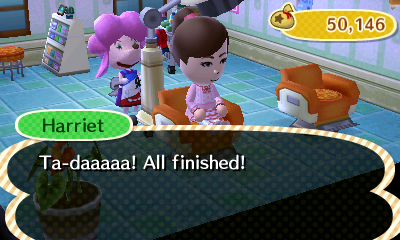 The look lasted a whole 3 seconds before I went back to my crown. I also got all of my other 3 character's hairstyles done–now to just wait for eye colors to unlock.
It was then to StreetPass where I got a Red Bunny Balloon.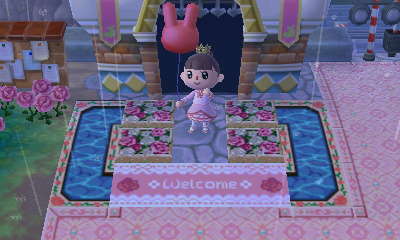 I then headed to check the island… still nothing good 🙁 There wasn't any tour in particular I cared for, but I did catch some things.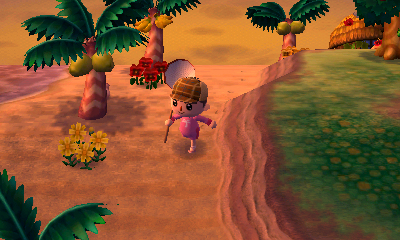 Yes! Ruby requested a Stone Tablet 😀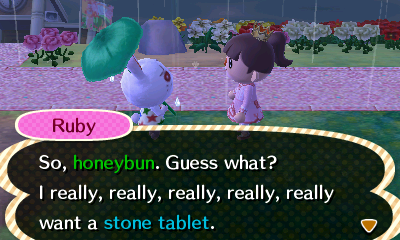 Finally something I want AND have a place for!
I ran to Isabelle and was reminded I hadn't celebrated the Street Lamp yet…oops.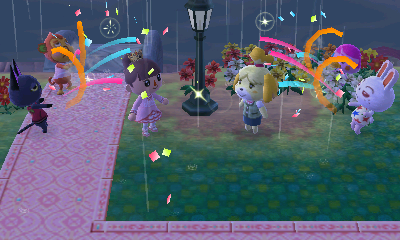 I then hurried back, quickly placed it, and paid it off.


Yaaay~
As for the weather, still raining: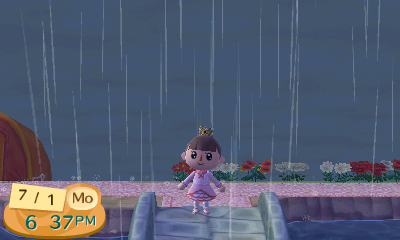 So I think a Scorpion won't be happening either. Honestly, the rain ingame looks as bad as I feel today :/
As a cheer up, some gifts were dropped off! As for what, I'm going to keep it a surprise for now since I'm hoping to use it to surprise some friends :3 But Thank you!
I did, however, get some flower and fish series gifts <3 I dropped off the Tulip Dresser to make it white.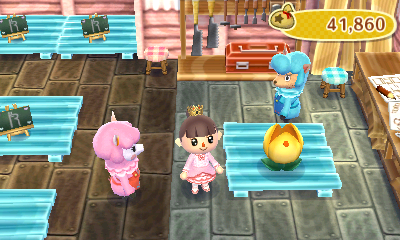 After picking it up, I gave him a Lily Record Player to do in yellow next.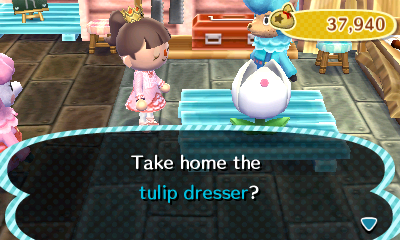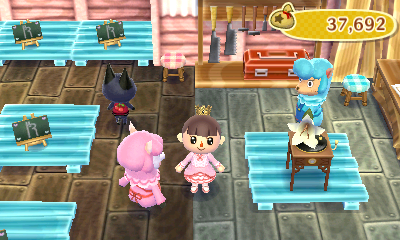 I also stopped by at Sosostris' English town for some Catalogging :3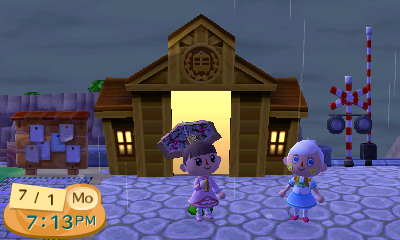 Thank you again for letting me stop by! <3 Picking up the Yellow Lily Player...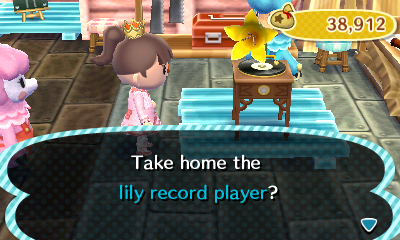 It looked better in the book so I gave it back to him to make red to see how that'd look.
With not much else to do because of the rain, I decided to try and hop on Club Tortimer again… No good items, but I did run into someone.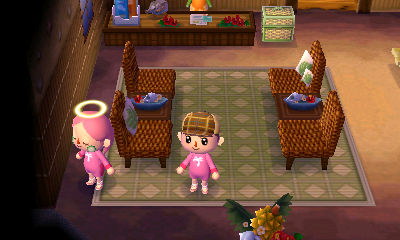 I think they were AFK though.
At around 11:30, it FINALLY stopped raining.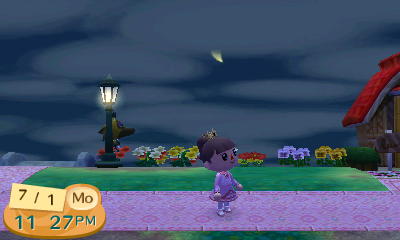 I guess I can try and catch a Scorpion before bed, but still frustrated :/ I think I may just stop tonight.. just a bit disappointed I guess. (and it started raining again so bleh)
———————————————-
Also, I am doing the Photo A Day Challenge! I will be posting the photos here, but you can follow the entries on Tumblr too.