Posted by: Jennifer | on August 19, 2013
Re-tail Sign: Carpet
Turnips: AM: 104 Bells | PM: 122 Bells
With no events going on, it was FINALLY time to celebrate.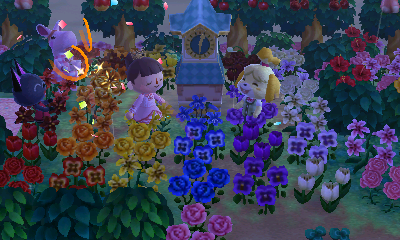 The rain may have put a bit of a damper on things though. Fossil hunting went lousy as usual, but I managed to get another gold ore today which means I have 3 again to try for another piece of gold furniture. I also ended up finding a lost item: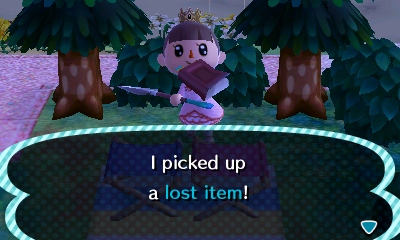 It didn't end up belonging to Marcie, Flurry, or Kiki so I will have to wait for the others to wake up.
In the meantime, with some help from Eclipsed, I figured out what to do with the sign situation.
Sign #3 by the private garden will stay as is.
Sign #2 will change to a bigger project (most likely 3×3) once Kiki moves which will help protect the path/bridge/topiary area.
Sign #1 will be changed to the big fenced in barrier thing once Buck moves which should help protect the entire area and prevent someone from blocking the bridge and putting their house there again.
Finally, when Kyle moves, I will temporarily place the Reset Center down. I will not finish it off (thus, I can cancel the work on it) and just leave it there to hold the spot after Kyle has moved out so nobody else can move there and I can save the room for the Water Pump. Hopefully this will work, but I will probably not update my Dream Suite until things are back to normal while projects are like this. Once the other 5 villagers are moved over, I will build the proper projects and set everything back up.
At a little after 8:30, I found the owner–it was Kyle.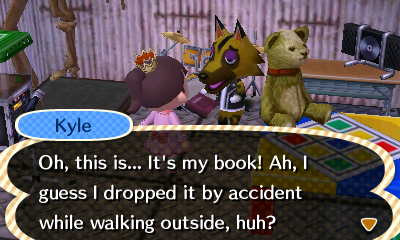 He gave me a Team NTDO Tee as thanks.
As expected, a new SpotPass House today.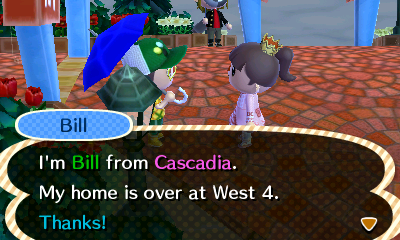 Hi Bill~ To his house!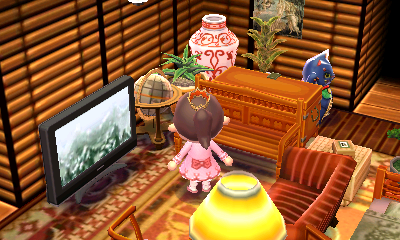 The Cool Globe from Earth Day T~T *jealous* ugh, waiting until April is going to suck… And my favorite room of the house: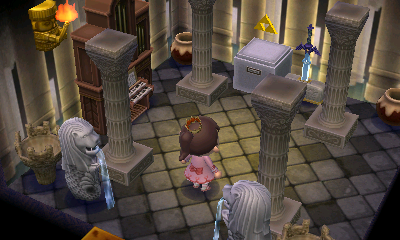 Though, this one was pretty interesting: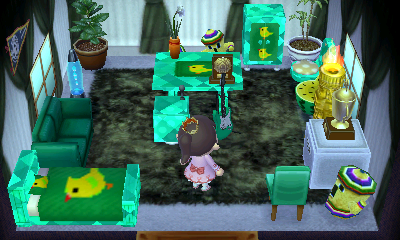 I feel like it needs a bird cage in there. And maybe more nature.
As for the Golden furniture… I got a bed 🙁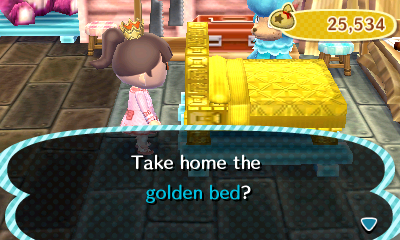 *sighs*
On the bright side… the Model exhibit is done 😀 (Although, I will be adding the Museum Model to it once I unlock that…)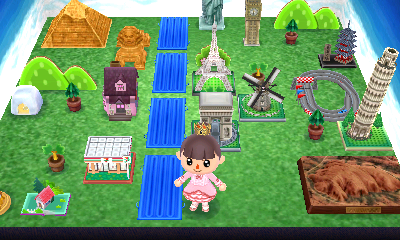 That means 2/4 are done…technically the Space one is pretty close to done–I just need some help with my fabric to planets idea X__x Once I get that done, it should finish it (unless I think of something more to do).
But yes, that's really it for today besides more refurbishing Rococo furniture for villagers. Although, if I get stuff done quickly, maybe I can do more stuff later…
——————————————–
Anyway, to end… The finished art from Marceline <3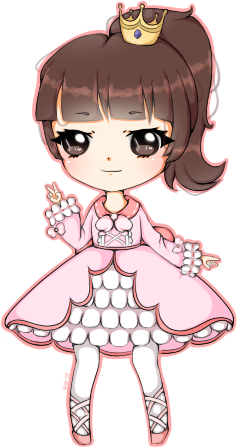 Thank you again! T~T <3