Posted by: Jennifer | on September 2, 2014
So today, after many many many dreams, I finally received the Golden Dream Badge!: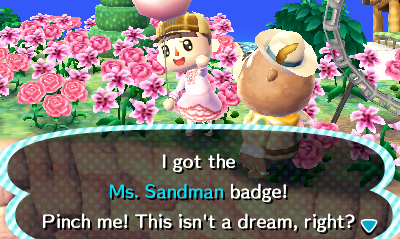 I now have 4 Gold Badges left. The hard part is that I have no good way to keep track of how many I have to go which makes it a lot harder to be motivated. For reference, the ones I have left are the catching lots of bugs, fish, and diving creatures (5K for the first two, 2K for the last) plus the earning 5,000 medals one.
Some spotlights from the Dream Villages I visited: