Animal Crossing: New Leaf
now browsing by category
So, after playing a bit and slowly working on advancing my date to the current time, I've essentially made up my mind on my current big goal: Catalogging all the new items. I know they can't be reordered and honestly, most I don't even want. My current mini goal is trying to get a Dachshund (Fortune #55) and all the other 3DS' (which I believe are not through Fortune Cookies). If anyone has a Dachshund they'd be willing to sell/give me, please let me know. Similarly, if anyone is willing to let me catalog stuff (Pick it up and drop it back down), also let me know! I love completing my catalog and it's a big deal to me, honestly.
I know of these items from the Fortune Cookies so far:
51: Wii U console
52: Wii U console (Black) – Still need (Mostly just want to catalog)
53: Chihuahua Ornament
54: Dalmatian Ornament
55: Dachshund Ornament – Still need (Will be putting in Trophy room)
56: Labrador Ornament
57: New Nintendo 3DS – Currently being remade: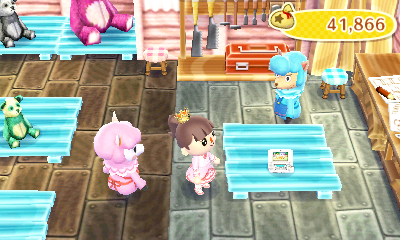 I plan to put it in my Mayor's bedroom. I have no idea if there are items past 57 though–I have yet to hear of anyone getting 58 or higher.
There's so many unique items in Happy Home Designer so I have no idea how many they brought over, but wow do I hate the MEOW tickets. I think they are fun goals in the game, but not all of them are ones people will do (Sorry, but I'm not changing my exterior and due to my Ordinance, I CAN'T fish out trash) and you can't actually earn enough to get both items Harvey sells and any RV items you may want each day. That sucks. I wish I could turn some of my bells into coupons because, while I understand why they probably did this, my bells continue to have even less use. Literally the only thing I had to use them for was already paid off for all four of my villagers.
That said, people have been super helpful and thus, I got a few items already that I really wanted: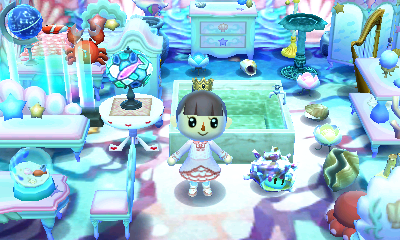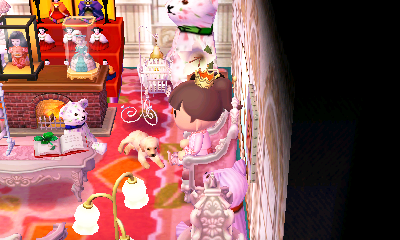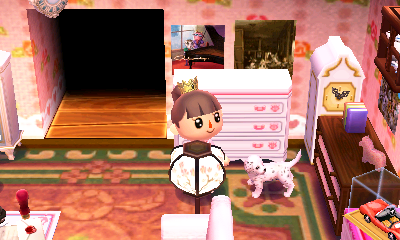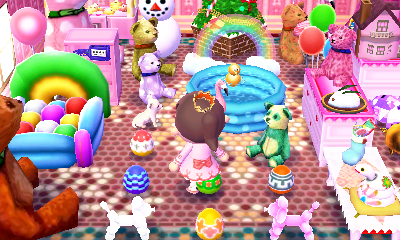 I'm keeping an eye out for the Tea set I really liked from HHD as I'd love to put that in my room (possibly both the living room and the bedroom). I'll miss the Clover book, but at least I still have one in Seamstry's house.
When I switched forward one day to have my lovely store room (as I've been holding music for a friend for his town and just desperately need the room), Wisp showed up nearly immediately so I wonder if he has to be the next day after you've started up since the update: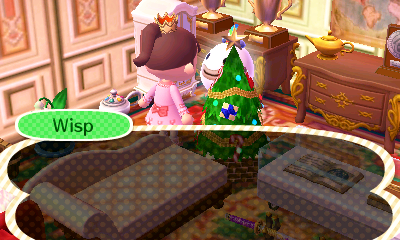 I love his lamp in this game.
Finally, I tried out the new camera option briefly: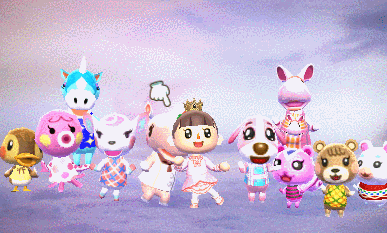 A dance party was the best I could come up with 😛
And just a note on the seminar from Lottie (and other HHD things)…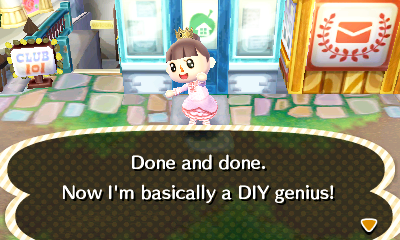 I wish we could still put items inbetween squares. I can understand ceiling items not being in (though, I would have loved if I could have my chandelier ;~; ), but I really wish they added in the new emotes from HHD and the more flexibleness with items. I guess that wasn't possible though.
Also, I'm still super surprised by the RV Campsite's location: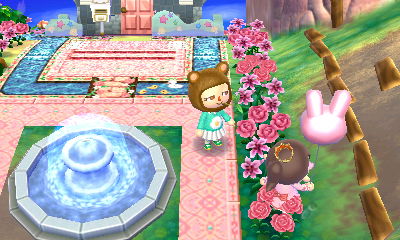 While it isn't terrible (just kind of awkward), I think it would have been better next to the museum–just a ramp going off from there. I don't know if I'll add any path addition towards it yet–it kind of looks okay with the flowers, but we will have to see.