Marcie
now browsing by category
So, thanks to some help from a friend, Marcie has finally returned: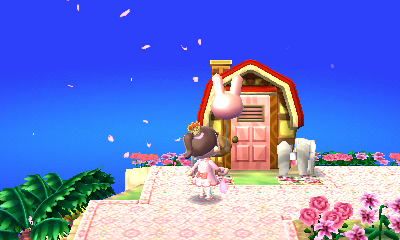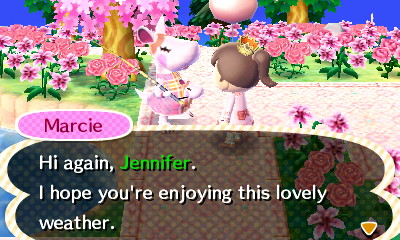 I'm just really happy she's back and we're back to 10 villagers again. Even though there hasn't really been any changes, I'm hoping to do a Dream Suite update sometime soon once I finish watering flowers. So many flowers 🙁
There was also a Nintendo Direct today which I will be talking about in much more detail over on my main site, but I will talk a little bit here too. Besides confirming more on the update (and a special version of New Leaf including it will be out later this year), a special direct for Animal Crossing will also be out this Fall. I wouldn't be surprised if it included the mobile game as well. Japan's direct gave a date of November 2nd for it so I'm expecting that same day here as well as the Directs have usually been the same day lately.
The new Amiibo cards look amazing though and I really hope I can get all 50. It's supposed to be all Villagers that didn't make it into New Leaf and so these are some of my favorites: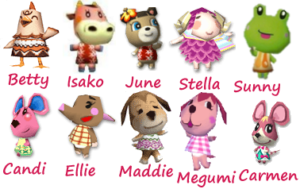 Though, I will admit that if some get in, I may end up wanting to switch some of my villagers… We already know Ellie is, but I think Megumi, Stella, and Carmen would be the ones most tempting–I really love my current villagers though.
The cards come out December 2nd in North America, but actually come out the 3rd in Japan (a day after the scheduled Direct) and the 11th in Europe… not sure why the US has such a large delay, but I feel like the update may be the same day as or the day after the special Animal Crossing Direct so it'll be a while before we get the new cards for it… So sick of the US being delayed like this 🙁