Posted by: Jennifer | on July 3, 2013
Video Log: Twitch Part 1, Twitch Part 2
Re-Tail Sign: Carpet
Turnips: AM: 573 Bells | PM: 210 Bells
So, it was an early start today and to my surprise, I was greeted by Lyle (and rain–but this wasn't so surprising.)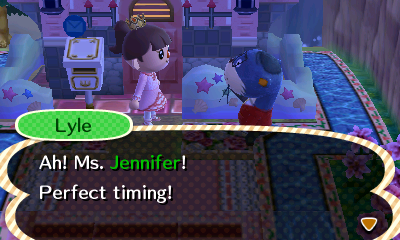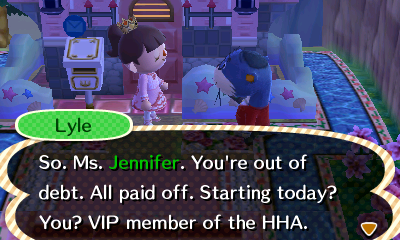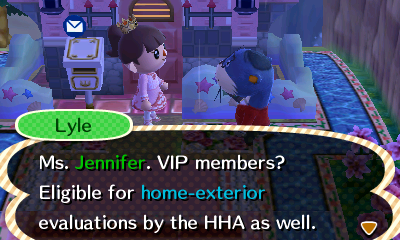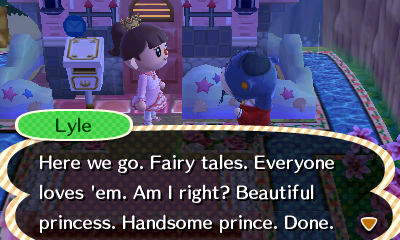 I decided to try–mostly as I don't know if I'll ever get 150K otherwise and figured I may have a better shot. So, I picked Fairy Tale.


That is like…what my character is made of.
Anyway, Flip has moved out and I found a new Camper…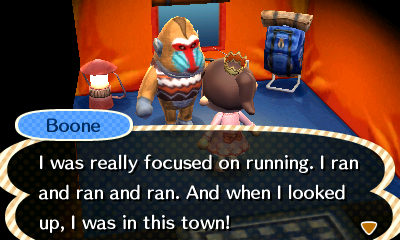 Boone the Gorilla.
Streetpass time!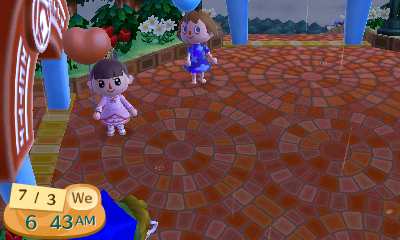 I received an Orange Heart Balloon and a Cyan Balloon.
I then started work on my Faceboard…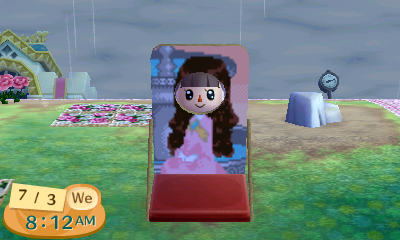 All done! 😀 Time for Celebration.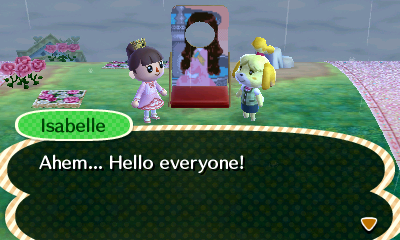 …Ummm… it seems kind of empty 🙁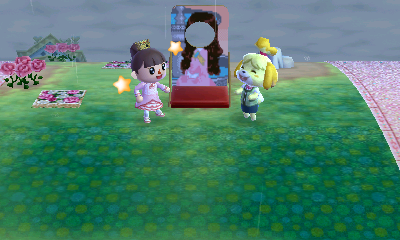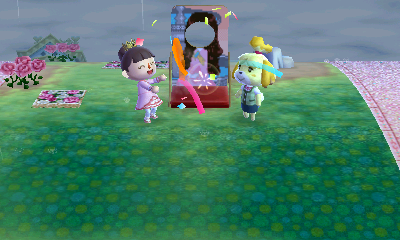 So…yeah…that was…umm… ._.
Regardless, I went to make the next one and pay it off.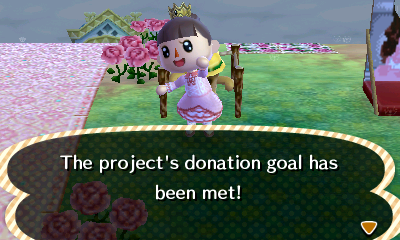 Ta-da~
It was then off to the cafe where I could drown my sorrows in a cup of hot chocolate 🙁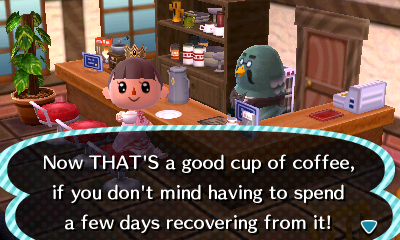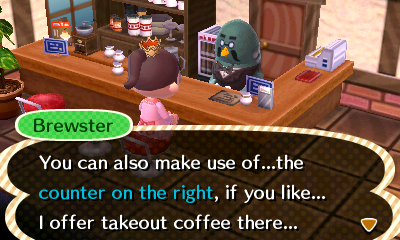 And I unlocked to-go coffee! Yay~
While waiting for 9AM, I decided to check out Club Tortimer a little bit in hopes to find a Sea Globe. The first time, it was empty… second time, I ran into someone, but I think they were AFK.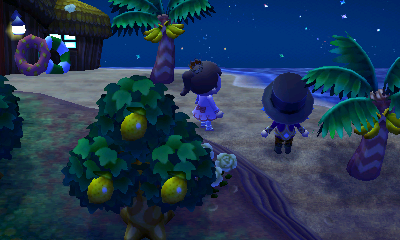 3rd time I hit a weird error…4th time, I ran into someone and found something new–a Muumuu. It was a blue dress.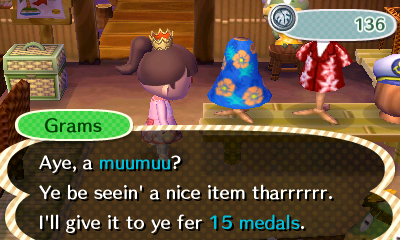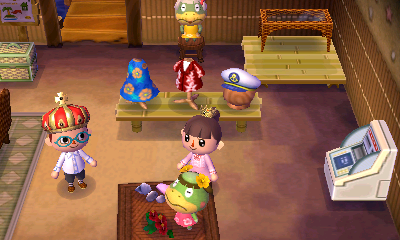 This person seemed nice enough, but I don't think they could understand English well–regardless, we did our best to communicate to eachother :3
Unfortunately, I'm not feeling too great today and I didn't want to ignore them, so I headed back after wishing them good night (one of the few phrases I know in Japanese! Even if it's only in Roman characters).
I gave Cyrus the Flat Display Case–I am getting the design in the book customized to "Constellation".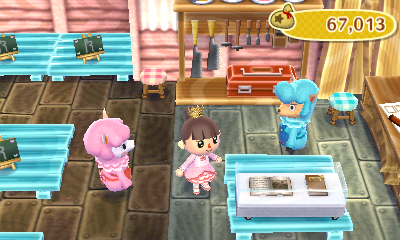 Looking forward to seeing it.
OH MY GOD.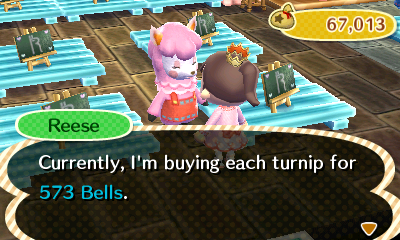 OMG. OMG. OMG. This is the first time in Animal Crossing I have EVER had high turnip prices.
A friend then let me visit and go shopping for a bit. Thank you! 😀 Enjoy your Cat Tower T~T <3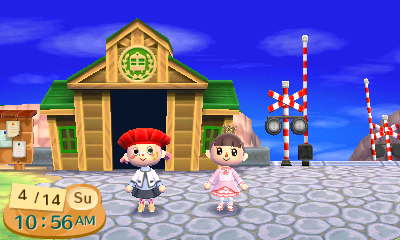 I let some people over for turnip selling @-@ Carina also stopped by to pick up her white stockings and give me a chocolate fountain and throne, Blue stopped by but caused disconnects so I will have to go to her town later to pick up stuff, and Emma surprised me with some bells to go towards my Public Works fund. Thanks everyone T~T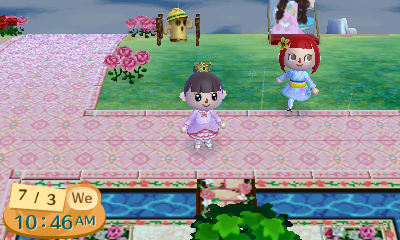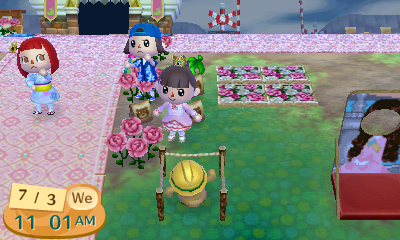 I wish I could've helped out more people… sucks that AM prices are only opened for 3 hours while PM has 11 :/
It was then time to see Dr. Shrunk.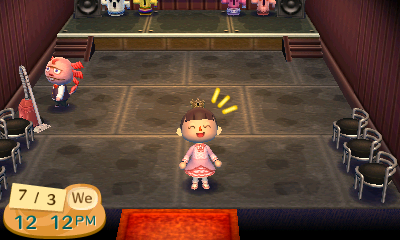 Laughter Joke! I also cleaned out the shops which I hadn't done yet due to being completely floored by turnip prices.
I then updated my Dream Village and decided to take a break for a bit.
Picked up my flat display case~ <3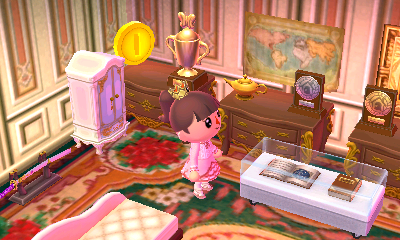 Refurbishing more Lovely stuff the usual way now for my Kitchen.
Kiki tried to call me J-Cat… she then went with Flip's old nickname of Princess.
Kyle invited me to play hide and seek. I had some issues with Kyle, but finally managed to find him :/ I swear I checked there though.
Snoops then surprised me with the fact that he found an Apato Tail so I picked up my Lovely Table and ran over there.
yeeeeeeeeeeeeees. 😀 MODEL BUILDING TIME. I don't care how silly this is, I'm so excited. The Brontosaurus is my favorite dinosaur <3 SO SO SO EXCITED 😀 I then decided to go to the island for a bit. I had gone to Club Tortimer, but I still hadn't gone to my own island yet. Sadly, no Scavenger Hunt today which stinks as I really need the medals... I did a quick Elite Hammer Tour instead. It's technically the fastest being only 3 minutes (although, I can sometimes finish the Scavenger Hunt in said time), but it causes my hand to cramp up after a while. Unfortunately, since I had to go cook dinner, it was all I had time to do before pausing. Upon returning... well...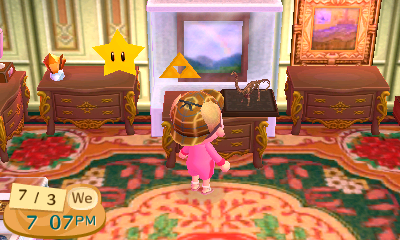 WELCOME TO THE WORLD, LITTLERFOOT. Yes, the R is intentional. Kudos if you get this–although, if you thought the R was a typo, you probably already half got it.
One of the people who was watching my stream (Mamalotas) invited me over to give me a Pink Balloon 😀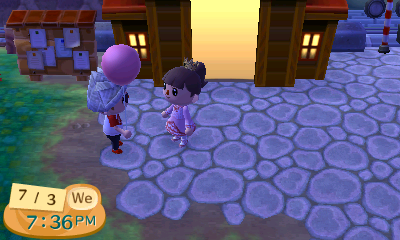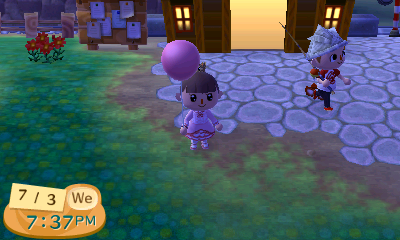 Yaaay. I was also able to catalog some stuff :3 And got to go shopping and I got a Hamster Cage!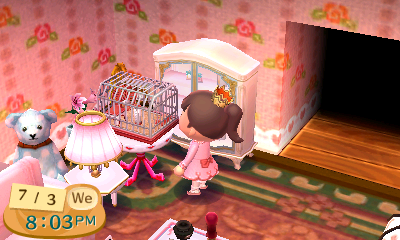 Streetpass time <3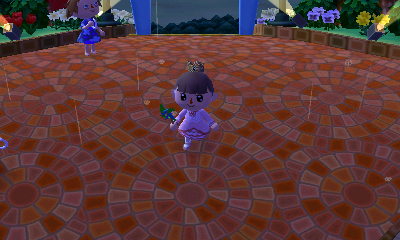 Got a Tweeter and Green Pinwheel!
Then my boyfriend came over to do minigames 😀 Blue and Carina joined as well.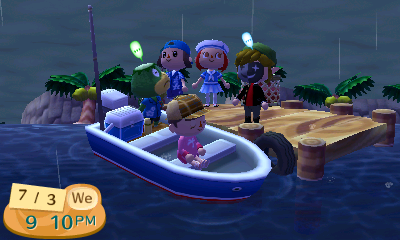 Unfortunately, a disconnect happened again 🙁
Ruby suggested a bell! YAY!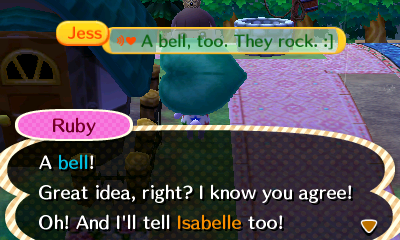 Not entirely sure where I want to put it though. Ideas are in the bottom left corner near where the Faceboards are, near where Astrid's house is (it'd essentially be up from where the bridge is…once I build the bridge) or in a park area. I'm opened to suggestions if anyone has any!
Anyway, then it was minigame attempt too–with my boyfriend, Carina, and Jessie.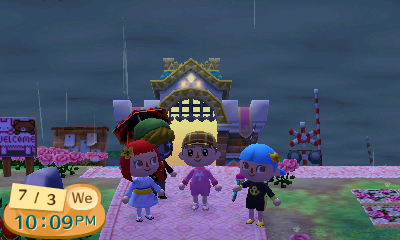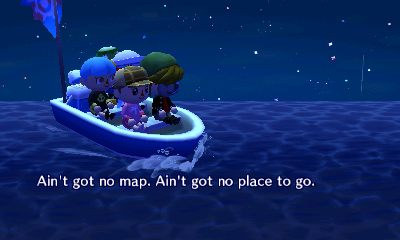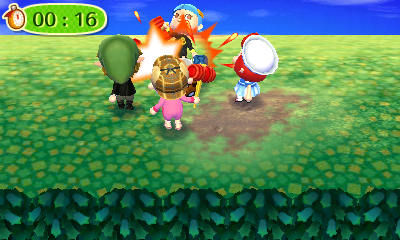 We had a lot of fun @-@ And after several attempts, we even got the Master Labrynth down!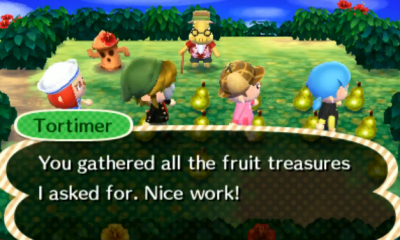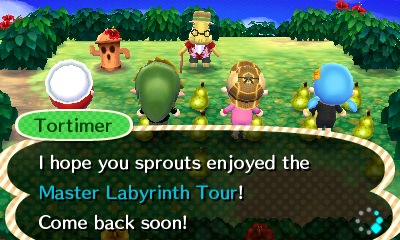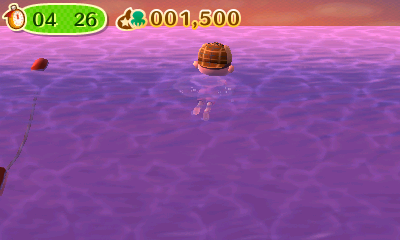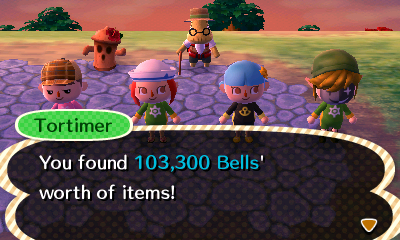 Upon getting back, we then jumped in the ocean 😛 And swam around a bit.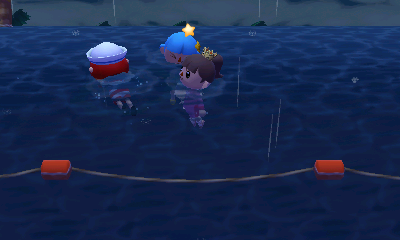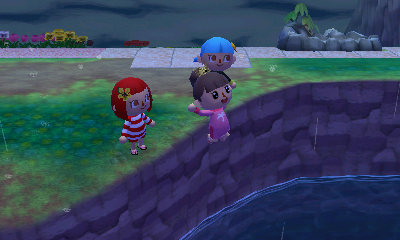 That was it for the night <3 Also, you may have noticed no pictures for some of the above things... unfortunately, my computer crashed so I lost quite a few of them ._. ------------------------------------------------ Day 3's Photo a Day picture: "You taking a boat to the tropical island with Kapp'n"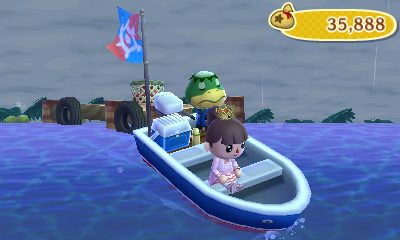 And Selaphi surprised me with this awesome picture: