Patterns
now browsing by tag
Video Log: Twitch
Re-Tail Sign: Lantern Fly
Turnips: AM: N/A (Missed) | PM: 112 Bells
Today is another late start sadly. Regardless, it was another day of mail and rain. Besides the rest of the stuff I ordered from Timmy and Tommy, I also received a Modern Chair from Ruby and, as expected, the Statue of Liberty from Gulliver.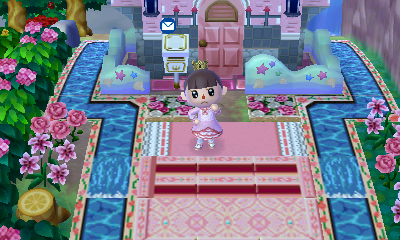 I decided I may try reverse psychology with Astrid due to a lot of my other villagers asking to move who I am better friends with… shall see if it works out. Although, while I like Kyle, he's probably the one I want to leave the most right now as I should be able to get the cafe request any day now… :/
Unfortunately, I did get two frustrating surprises…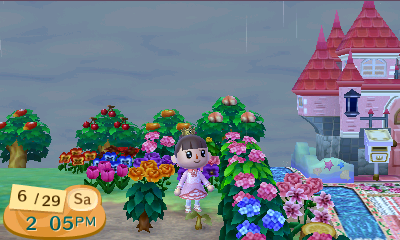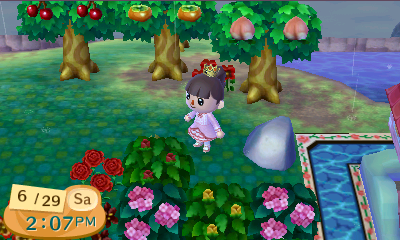 Two of my bushes died. I'm really not sure why or how but bleh. One was a Pink Hydrangea and the other was my only Sweet Olive :/ So pretty upset about it. I wish I at least knew WHY. I don't know if it was just a crazy incident or if I should try planting them again or what? ._.
Read the rest of this page »
Video Log: Twitch Part 1, Twitch Part 2, Twitch Part 3,
Re-Tail Sign: Cowrie Shell
Turnips: AM: 117 Bells | PM: 72 Bells
So, today is a bit disheartening to start. I expected to have my 3DS in hand and be streaming right now and celebrating and it'd be awesome. Unfortunately, I apparently missed the package delivery because despite the pick-up being very late, they ended up delivering it early–and I missed it by 10-20 minutes (and apparently nobody else in my household was available nor could anyone call me to try and get me up). I don't even know how I am up. Maybe I just sensed the fact a package was coming and now I wish I didn't even try going back to sleep (as for why I did, today is my sister's birthday and napping in the middle of the day = not recommended). Regardless, it is 10:30AM now and I can't skip Animal Crossing in the morning or wait to play until 4PM to pick up my 3DS, but that'd be stupid to do in a real time game.
Thus, I will be playing on my old 3DS again for most of this entry, but I'll probably try and avoid pictures or things because taking them off the SD Card sucks. But I guess I'll try and not cry and just be happy that I can play (even though this 3DS can't charge more than halfway) and…and… T________T
So, I learned I can't take pictures Isabelle talking at the beginning with L + R. Just not making my day any better, game :/
Read the rest of this page »
Re-Tail Sign: Carpet
Turnips: AM: 98 Bells | PM: 90 Bells
Yay for mail~ One a surprise and one not so much.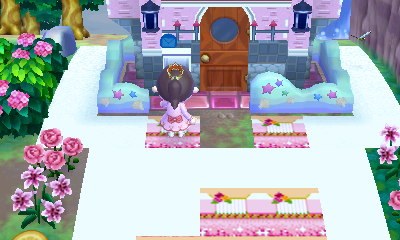 Tammy had sent me a Ranch Tea Table as thanks for her birthday present and the other was the Star Globe that Mark made me order for him.
I went to throw some stuff into my Basement for now to at least get it towards it's stepping stones. I'll probably be upgrading it again as I really want to work towards how it's supposed to look.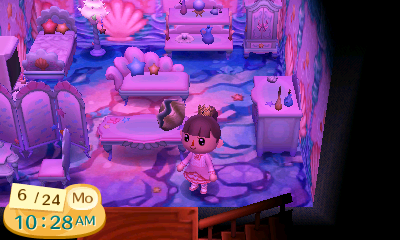 Flip had me deliver something to Astrid who had me guess on whether I'd receive anything–I failed (although, I did figure it was clothing–I just was really hoping for furniture). Blah. On the bright side, I found all 4 of my fossils relatively easily.
Anyway, then it was time to celebrate 😀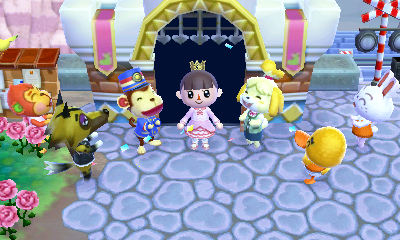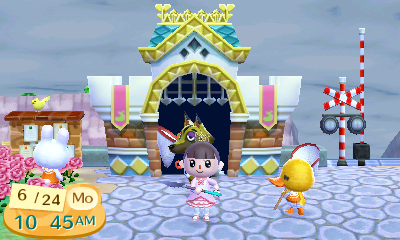 After the Ceremony, Kyle asked for any Fruit and Ruby asked for an Orchid Mantis… not sure if I will complete the latter, but Kyle gave me an Imperial Shirt as thanks.
I went and paid off my loan to Nook, but I'm going to hold off on seeing him for the next expansion in hopes I can find someone with a Pink Arched Door. I'll do the expansion a little late.
After finishing at the museum (no new fossils 🙁 But bought some stuff at the Museum shop!), I headed to the HH Showcase. However…there was someone I didn't recognize before.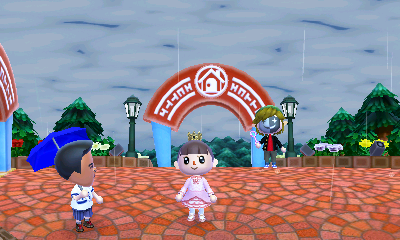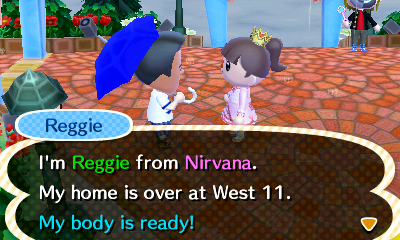 It's Reggie! 😀 Our first Spotpass house.
Read the rest of this page »